Ah, the breakfast sandwich. A symphony of flavors and textures combining crispy, savory, and even sweet elements between two slices of bread. Many of us have indulged in the luxury of picking one up from a local cafe or eatery. The allure is undeniable. The wafting scent of toasted bread, sizzling bacon — or, for those with a refined palette, — and that unmistakable aroma of melted cheese. However, there's always the price to consider. While the convenience of grabbing a breakfast sandwich on the go is unmatched, the costs can add up, especially if it's a regular indulgence. 
It's not just about the monetary cost, but also the hidden ones: the lines, the occasional inconsistency in preparation, and the mystery of what exactly goes into that sandwich. The good news? Creating your own luxurious breakfast sandwich at home is not only easy but allows you to use high-quality ingredients while tailoring it to your exact preference. Recipe developer brings us a recipe for a breakfast sandwich so tasty, you won't be tempted to shell out for a fast food version any time soon.
Gather the ingredients for this pesto prosciutto breakfast sandwich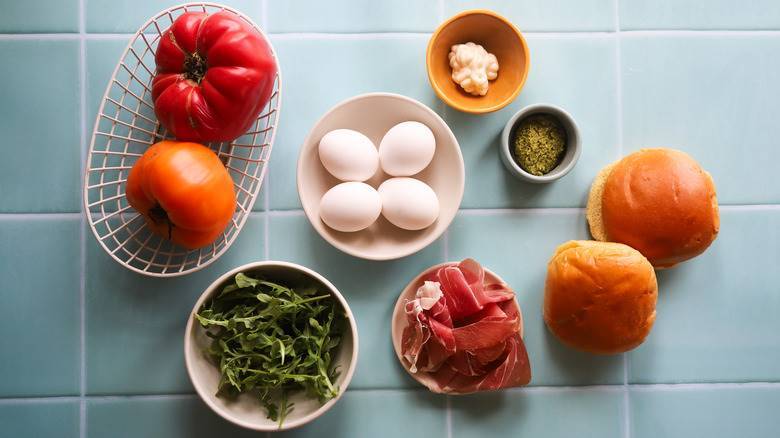 Any good breakfast sandwich needs eggs. If you can, free range eggs will have a better, richer flavor, but any kind will do. For the bread, this recipe calls for brioche buns. If you can't find those, plain hamburger buns will work, as would a split baguette. We also used here, but any kind of tomatoes will work, especially once roasted and caramelized. A handful of arugula adds a spicy, peppery kick, while salty prosciutto adds richness. Finally, a creamy pesto aioli is made from aioli or mayonnaise and store-bought pesto, though a will work just as well.
Step 1: Preheat the oven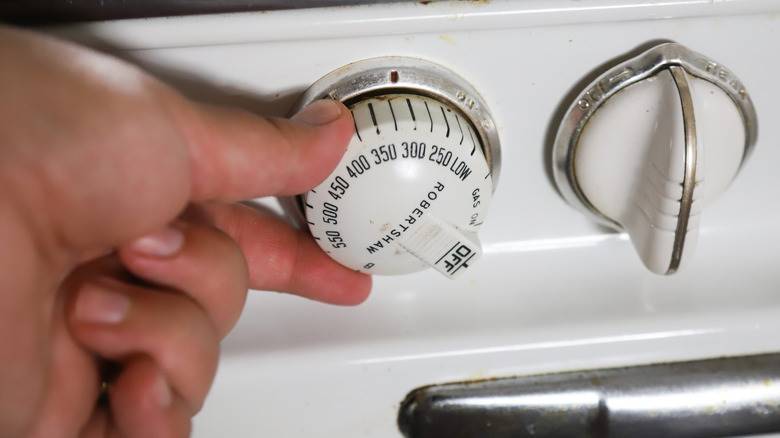 Heat oven to 400 F.
Step 2: Prep the tomatoes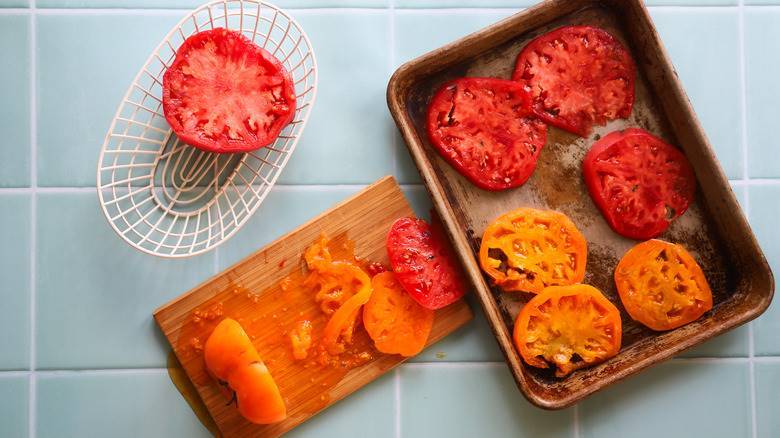 Slice the tomatoes and place on a sheet tray.
Step 3: Roast the tomatoes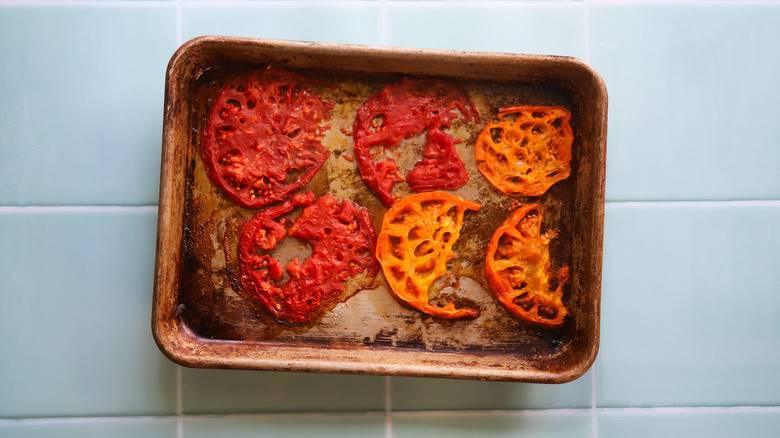 Roast until softened and slightly caramelized, about 14 minutes. Remove from oven and let cool slightly.
Step 4: Make the pesto aioli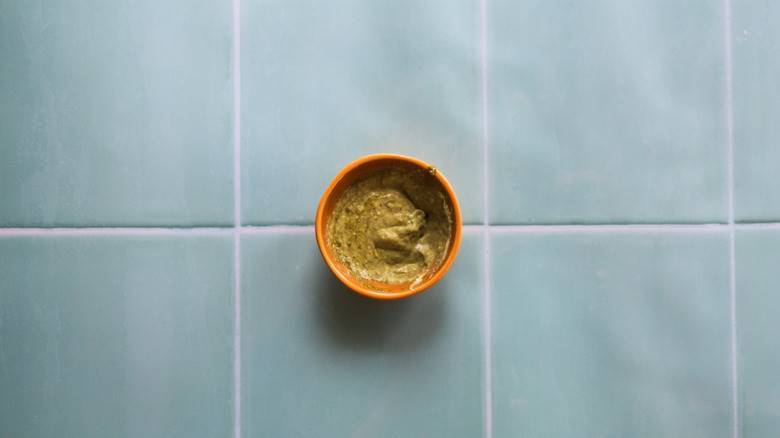 Meanwhile, combine the aioli and pesto in a small bowl. Set aside.
Step 5: Beat the eggs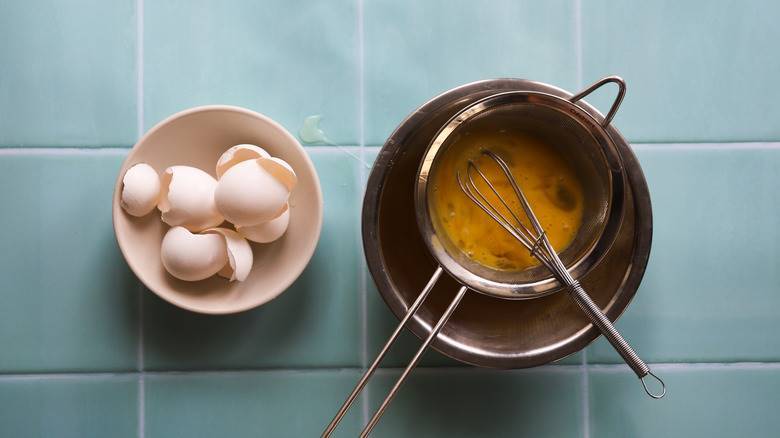 Beat the eggs in a small bowl and pass through a strainer. Set aside.
Step 6: Toast the buns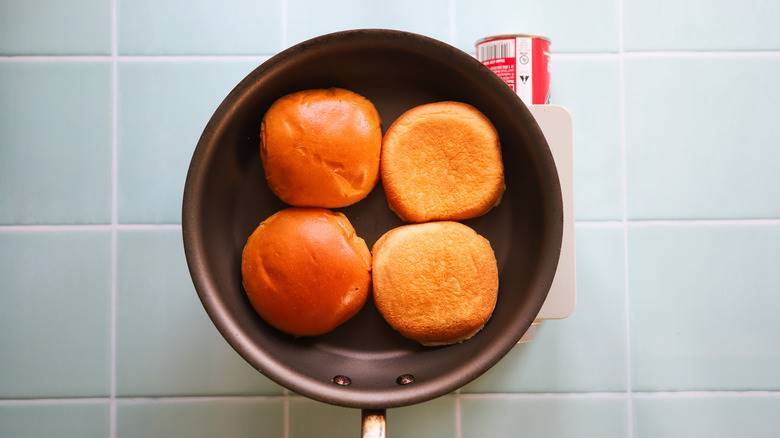 Heat a nonstick pan over medium heat. Toast the brioche buns until golden brown. Remove and set aside.
Step 7: Cook the eggs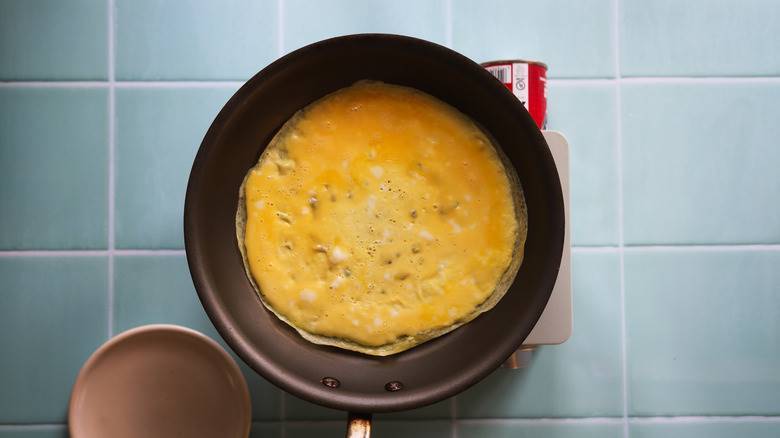 Pour half the eggs into the same pan and swirl to spread evenly. Cook over low heat until set.
Step 8: Fold the eggs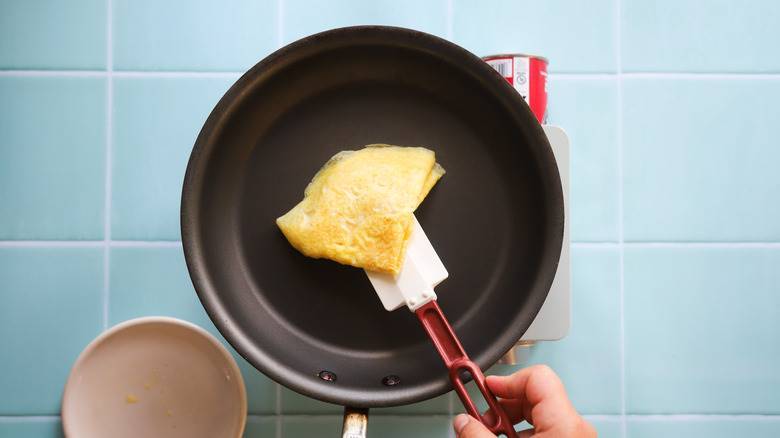 Fold egg in half, then in half again. Remove from pan and set aside. Repeat with remaining eggs.
Step 9: Spread on the aioli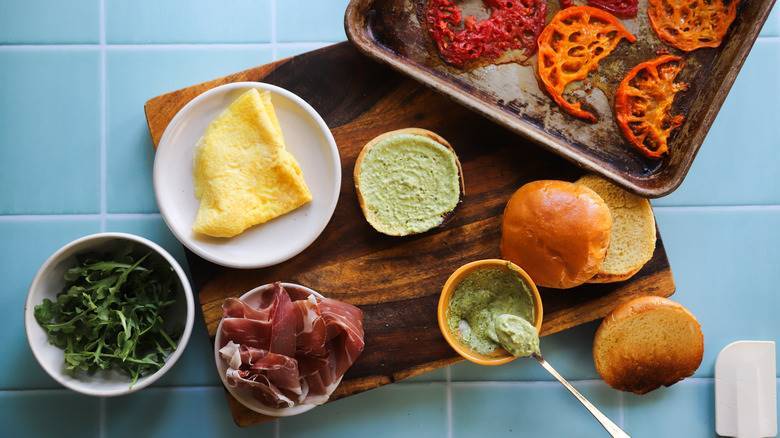 Spread pesto mixture on the bottom half of both buns.
Step 10: Add tomato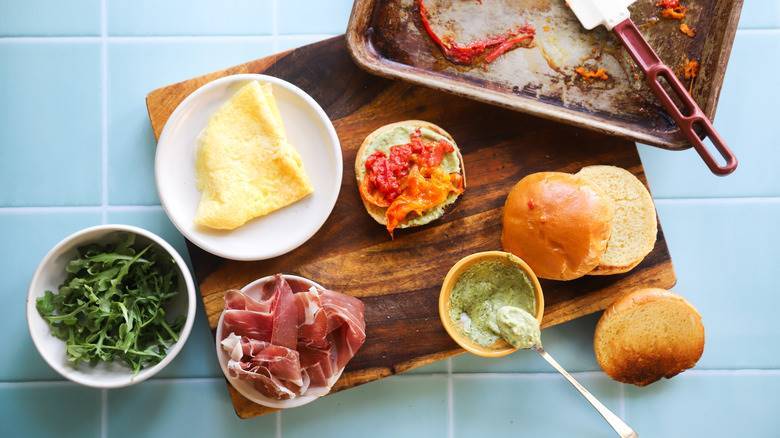 Divide roasted tomatoes between both halves.
Step 11: Add arugula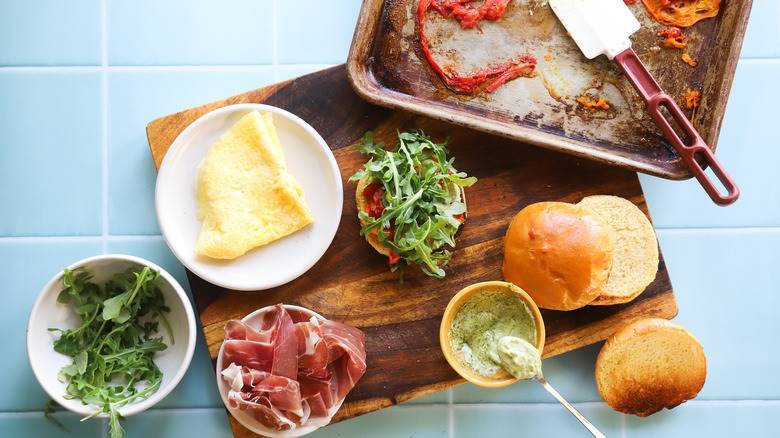 Divide arugula between both halves.
Step 12: Add egg patties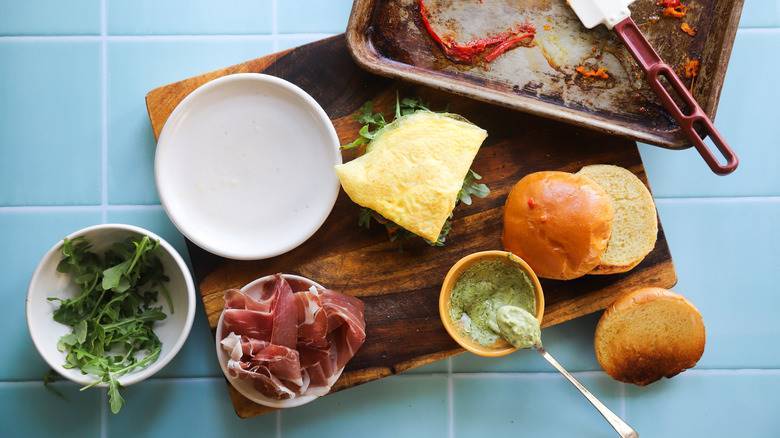 Top arugula with egg patties.
Step 13: Top with proscuitto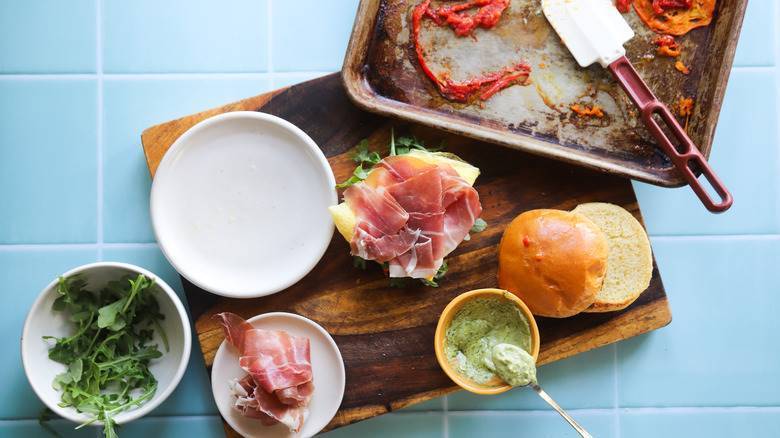 Add prosciutto to the top of each egg patty and finish with bun tops.
Step 14: Enjoy immediately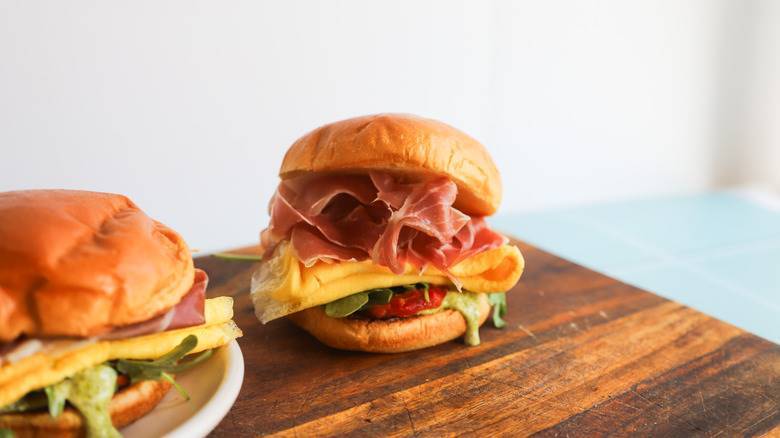 Enjoy immediately.
What can I use besides prosciutto in pesto breakfast sandwiches?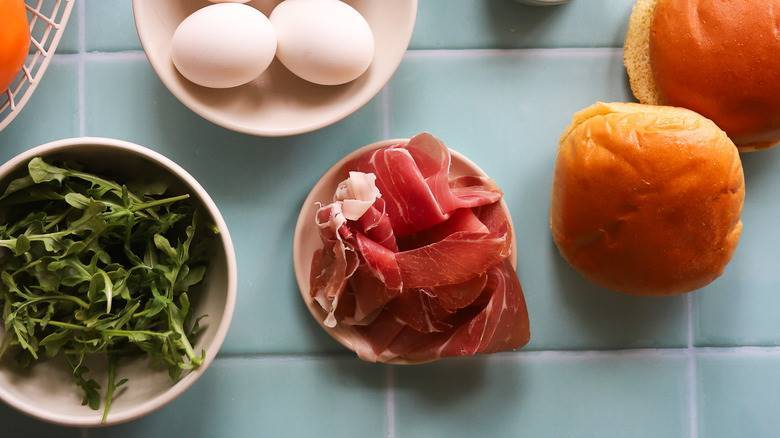 Breakfast sandwiches are incredibly versatile, and while prosciutto offers a salty and delicate texture to the dish, there are many other delicious meat options to consider. If you're seeking a similar saltiness but with a smokier flavor, consider using bacon. Sliced ham would also be a great and economical alternative to prosciutto. For a more robust, spicy profile, slices would be the perfect choice. Traditional breakfast sausages, either patty or link style, can also be used once cooked and sliced. 
If you prefer a lighter option, smoked salmon can give a luxurious touch to the sandwich, pairing wonderfully with the pesto aioli and roasted tomatoes. When substituting, always ensure your meat or protein choice is cooked to the recommended internal temperature to ensure safety and the best flavor experience. You can always skip the meat altogether and make the sandwich vegetarian, or add some roasted vegetables to give the sandwich more heft without using animal proteins.
Can pesto aioli be made in advance?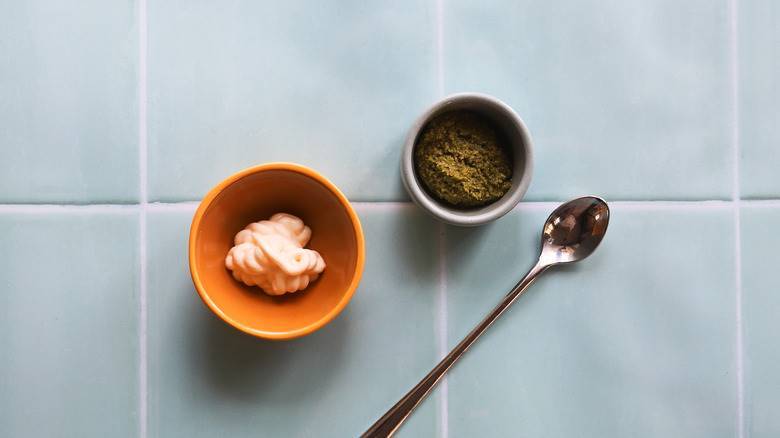 The pesto aioli in this recipe is not only delicious, but also highly versatile. Making it in advance can save you time, especially during those rushed morning hours. To prepare it ahead, simply blend together mayonnaise or aioli and your favorite pesto (store-bought or homemade). If you want, you can add a dash of lemon juice and a pinch of salt and pepper. Once combined, transfer it to an airtight container and refrigerate. 
When stored properly in the fridge, the aioli can last for up to a week. Before using, give it a good stir to mix any separated ingredients. Additionally, refrigerating the aioli helps the flavors meld, often making it taste even better a day or two after it's made. Remember to always use a clean utensil when scooping it out to prevent contamination and prolong its shelf life.