If you don't bake pies often, chances are you only have one type of pie dish, or maybe you only use the disposable kind. A standard pie dish is about 9 inches wide and has sides that are a little over 1 inch tall. You can use it for any type of pie, whether it's baked, no-bake, or has a . What some people don't realize, however, is that there's another type of pie dish that works best for dishes like quiche and chicken pot pie. This variety is about 2 inches deep, giving your pies extra room for more filling.
According to Danielle Kartes, a 2-inch-deep pie dish is the perfect vehicle for a custard-based pie, particularly pumpkin. Instead of a pumpkin pie with lots of crust in every bite, you'll end up with one that has more filling. "If you are a pumpkin pie fan, this takes your pumpkin pie game to the next level," the cookbook author shared during an appearance on "."
Danielle Kartes' tip for deep-dish pies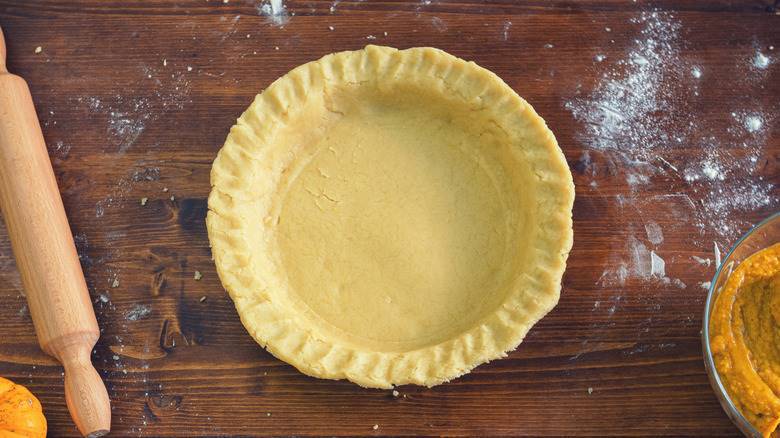 Though a deep-dish pie pan still has the same 9-inch width as the standard variety, lining it with pie crust can sometimes be tricker. The most common way to line any pie is to drape the dough over a rolling pin and position it over the pie dish, but since a deep dish pie pan is, well, deep, you usually have to stretch the dough to make it fit. This can easily rip the dough if you're not cautious.
To prevent any ripping, Danielle Kartes takes a different approach. As she demonstrated on "The Kelly Clarkson Show," she starts by folding the crust in half to make a semi-circle, then folds it in half once again to create a triangular shape. Kartes then puts the folded crust into the pan, placing the pointed corner in the center before unfolding it. As a result, not only is the crust perfectly lined up in the dish, but you also don't have to do as much pressing or stretching to make it fit.
Adjusting your pumpkin pie recipe for a deep-dish pan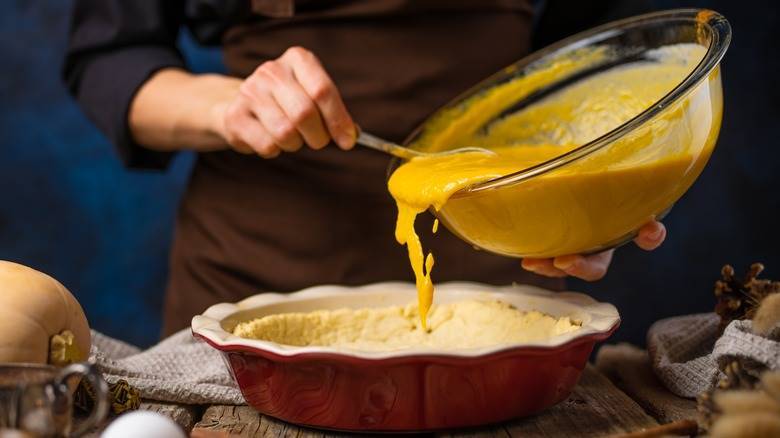 When using a deep-dish pie pan instead of the standard variety, you can technically use the same recipe — you'll just have to adjust it to match your pan's larger capacity. Considering a deep-dish pie pan has roughly double the depth of a standard dish, you'll need to increase the quantity of your pie filling and crust accordingly. This means doubling the recipe for both the filling and the crust. If you aren't making your dough from scratch, you can also just use two standard-sized pie crusts.
Given how thick the filling will be, be prepared to also extend your pumpkin pie's baking time. While many  take as little as 35 minutes to bake depending on your oven's temperature, a deep-dish pie will require up to an hour. If all else fails, you can always check the doneness by shaking the pan lightly. If the filling is mostly firm, except for in the center, it's ready to be taken out — just make sure you let it cool and set before serving.