This boozy apple cider cocktail is an effervescent autumnal cocktail that isn't overly sweet. It's easy enough to sip on the couch while watching your favorite show, but also festive enough to pass on golden gilded trays as guests trickle into your for Thanksgiving or the Christmas season.
According to Ksenia Prints of , what makes the boozy is the combination of whiskey, sparkling cider, and refreshing apple juice. It feels like an evening at the fair, with the smell of apple cider donuts tingling at your nose. But the heart of the drink is the sugar-cinnamon rim, adding sweetness and balance to this sparkling cocktail. For those who can't find sparkling hard cider or prefer to make their drink less alcoholic, sparkling water can provide a great alternative. Just make sure to buy apple juice that is sweetened only slightly, if at all, to not overwhelm the palate or overshadow the base spirits.
And the best part is, this cocktail can easily be made individually or pre-mixed in a pitcher and then poured into glasses on demand. Simply prep glasses with the cinnamon-sugar rim, and set them beside the pitcher. To keep the bubbles fresh, keep the hard cider or sparkling water separate from the pitcher, allowing guests to top it off at their leisure.
Gather the ingredients for boozy apple cider cocktail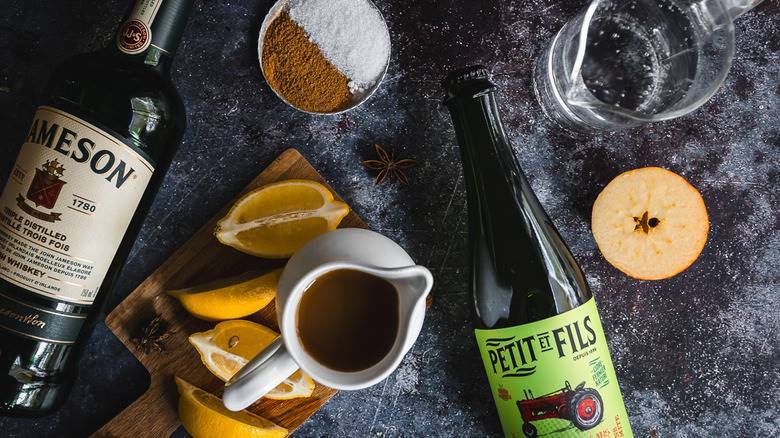 To make this playful autumnal cocktail, you need to stock up on a few alcohol types and some garnish elements. To make the drink's sweet cinnamon sugar rim, which is meant to replicate the dusting of cinnamon sugar on an apple cider donut, you will need a lemon wedge, cinnamon and granulated sugar. To make the cocktail itself, you will need apple juice, preferably unsweetened and unfiltered, whiskey, and sparkling hard apple cider. You can also use sparkling water to top the drink. Finally, for a garnish, you will need fresh apple slices, star anise, and another lemon slice.
Step 1: Wet the rim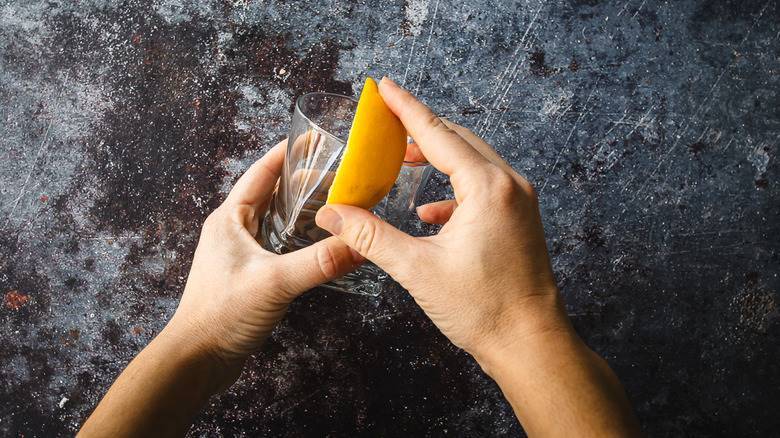 Rub lemon wedge around the rim of a tumbler glass.
Step 2: Mix cinnamon and sugar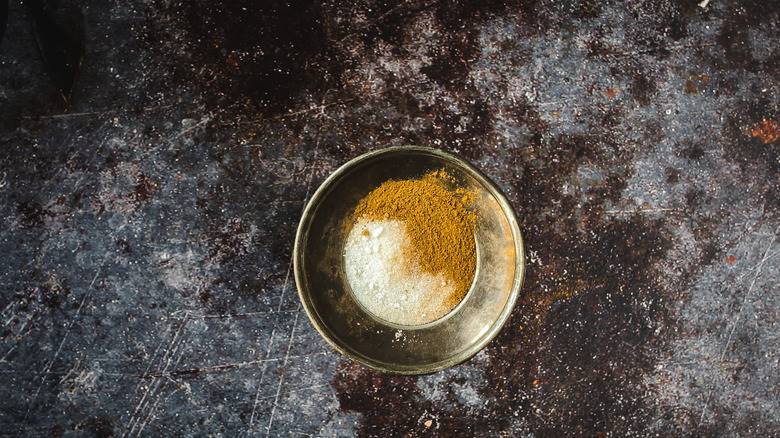 Mix cinnamon and sugar in a flat plate.
Step 3: Dip the glass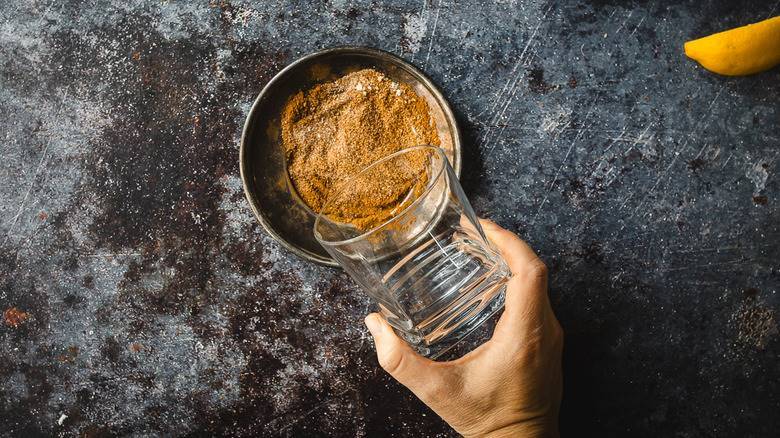 Run the rim in the cinnamon sugar mix to coat.
Step 4: Mix apple juice and whiskey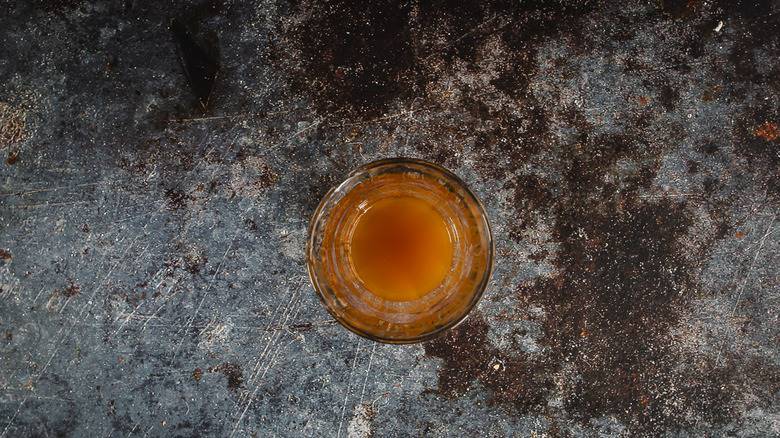 Mix apple juice and whiskey in a separate glass or bowl.
Step 5: Add ice to glass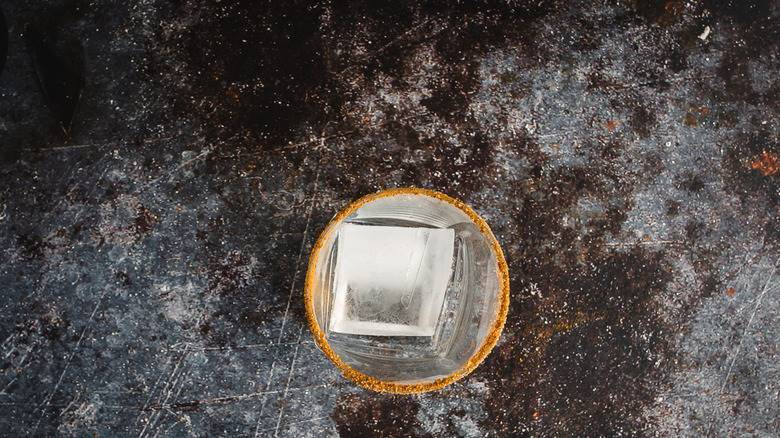 Add ice to the tumbler glass with a cinnamon-sugar rim.
Step 6: Pour in cocktail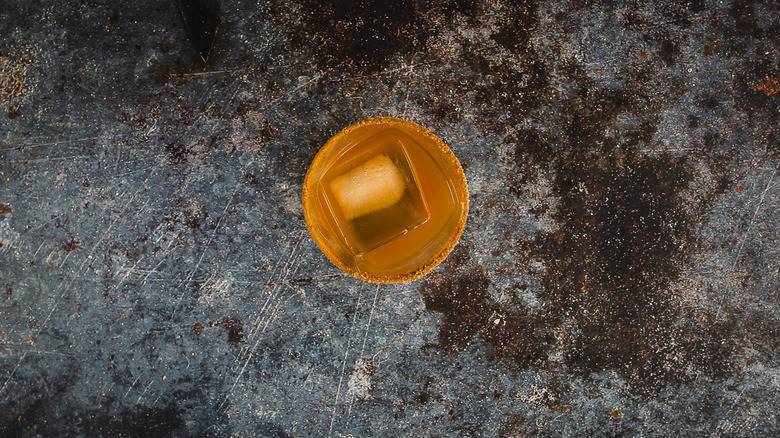 Add in the juice-whiskey mixture.
Step 7: Top the drink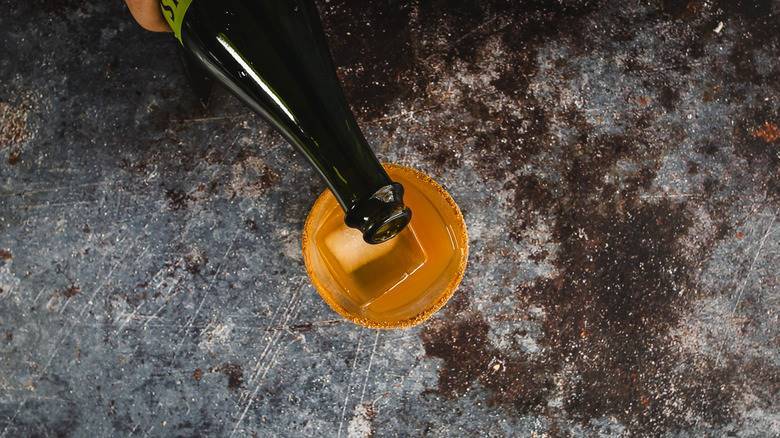 Add hard cider. Top with sparkling water if you want a bubblier cocktail.
Step 8: Garnish the drink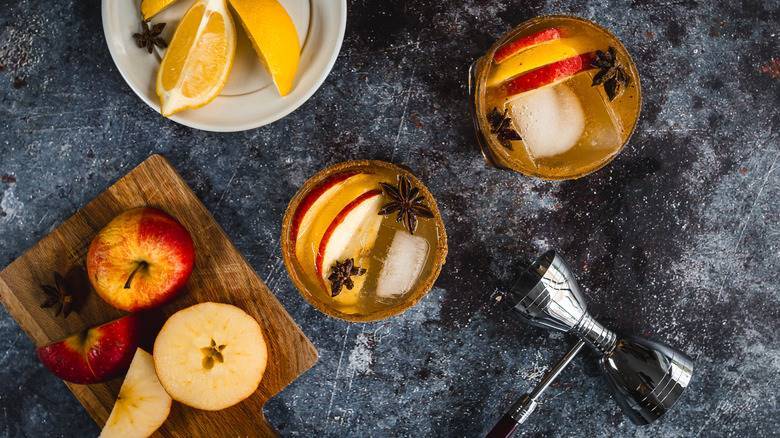 Garnish with apple slices, star anise, and a lemon slice.
Can I use a different type of hard cider?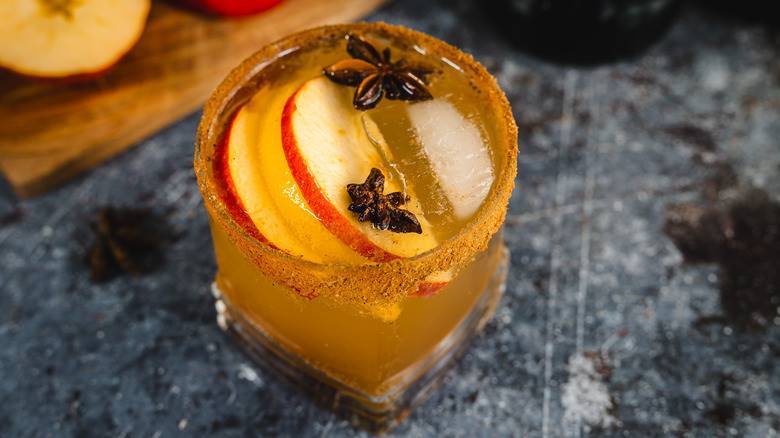 Hard cider is at the heart of this drink, alongside the unsweetened, unfiltered apple juice. They give the drink its apple flavor, tying it to fall produce and giving it a fun, not overly sweet and cozy vibe. We love making the drink with sparkling cider, as it gives the drink a vivacious touch that fizzes gently upon drinking, making it suitable for a party or Thanksgiving dinner.
However, if you are not a fan of sparkling cider, or if it not available for you, you can substitute another variety of hard cider in this drink. Look for a dry or semi-dry cider, which will balance out the juice's sweetness and not take it in a cloying direction. But if you're a fan of sweet drinks, or want to add more sugar to the cocktail, you can also use your favorite sweet hard cider. To give the drink a totally different spin that is still appropriate for Thanksgiving, you can also try a cranberry-apple cider for tanginess or a ginger apple cider, which will add some spice.
What can I use in this apple cider cocktail instead of whiskey?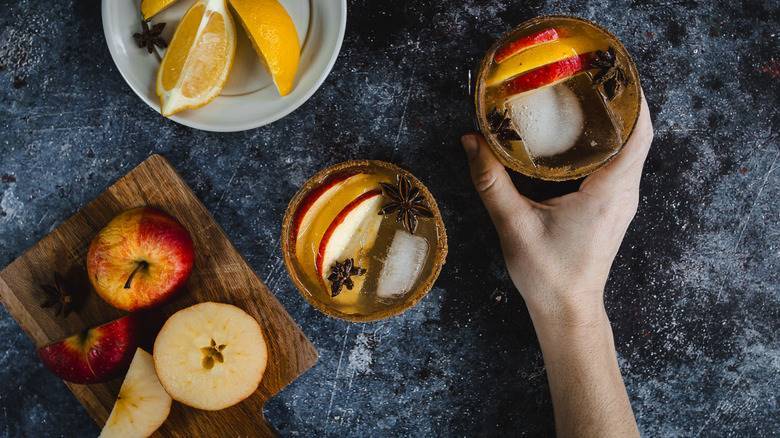 Apples pair very well with whiskey, which is why we recommend using it as the base spirit. Avoid peaty Irish whiskey, which will overpower the cider, or Japanese whiskey, which is far too delicate for this mixed drink. Scottish whiskey or rye would work very well in this cocktail.
If you're not a fan of whiskey, then this drink can still be for you. Simply replace it with another like brandy, rum, or bourbon, keeping the same base alcohol amount. Brandy will keep the drink's sweetness and add an aromatic element to the drink. Rum will make it a bit sweeter and take it in a more tropical direction — we especially love using cinnamon rum or spiced dark rum in this case. Bourbon will also make the drink feel sweet and more Southern, pairing nicely with the drink's autumnal country fair vibe. Vodka would also work for a more neutral flavor.
Can I turn this Thanksgiving apple cider into a mocktail?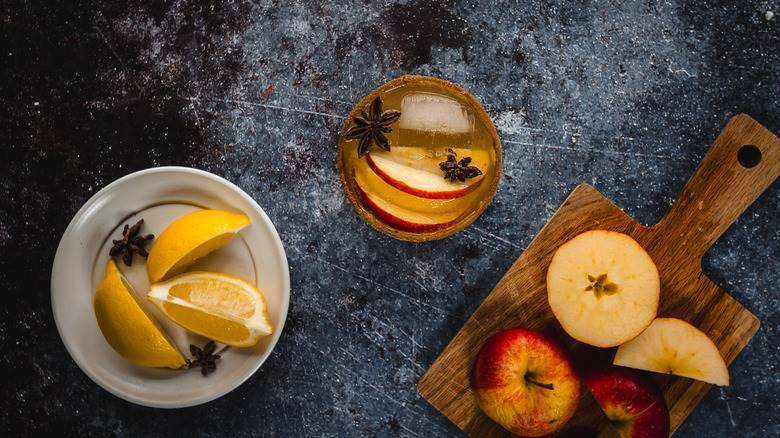 The holidays are a time of indulgence, but this can often mean there is a big emphasis on alcohol, making those who abstain from it often feel overlooked or pressured. Luckily, making this Thanksgiving cocktail non-alcoholic is an easy matter or replacing the spirits — whiskey and hard apple cider — with a few other ingredients. This will mean that children or adults avoiding alcohol can still enjoy the festive, autumnal and spiced vibes of this Thanksgiving drink. To make up for the absence of alcohol while still keeping the drink's body, we recommending using sparkling non-alcoholic cider and sparkling water. To substitute for the whiskey, increase the amount of sparkling cider and water to six ounces in total.
If you cannot find non-alcoholic sparkling apple cider, increase the apple juice to 6 ounces, and add four ounces of sparkling water. You may also want to add a bit of simple syrup to make up for the lack of sugar that comes from the hard cider. Even without alcohol, the flavors of apple, cinnamon and citrus will still come through in the drink, keeping its balance and fall spirit but making it more accessible for everyone.