The holidays are the perfect time for snuggling up under a blanket and sipping on cozy drinks such as hot chocolate or . Rather than just limiting yourself to enjoying these seasonal treats as beverages, though, why not try working them into your holiday dessert?
One easy way to do so is to make eggnog cake. This decadent sweet includes the holiday drink of the same name in the batter, giving it a rich, creamy, sweet vanilla flavor. It also often includes seasonal spices, such as nutmeg, to add warmth to the sweetness. Plus, if you're a fan of , you can play on both that warmth and the flavor by adding a splash of your favorite alcohol.
If the idea of a holiday eggnog cake has you drooling, we have some ideas for how to take the already impressive dessert to the next level, including additions to your batter, frosting, and decorations to make the cake worthy of a spot as your holiday dessert centerpiece.
Elevate your eggnog cake batter with seasonal spices
To make an eggnog cake, you'll first need to start with your batter. This dessert uses basic cake ingredients with just a few additions — most notably your favorite store-bought or homemade eggnog in place of some of the other liquid ingredients. Now, while you can make eggnog cake fully from scratch, you can also save yourself some time and use a boxed yellow cake mix as the base for your batter.
Whichever route you go, you'll also want to consider spices. While the eggnog itself has some spice and you can choose to leave additional spices out of the batter altogether, adding nutmeg or other seasonal spices that complement eggnog's creamy flavors well, such as cinnamon and ginger, can bring extra depth to your cake.
Another consideration with eggnog cake is alcohol. You don't have to add this ingredient if you don't want to, but it can be a fun way to elevate your cake and make a more adult treat. A glass of spiked eggnog often includes brandy, spiced rum, bourbon, or even a mixture of these liquors. You can use these same types of booze in your cake by adding a few tablespoons to the batter. Or, decrease the alcohol while still getting the flavor by adding rum extract instead. 
Pair your cake with the perfect frosting and garnishes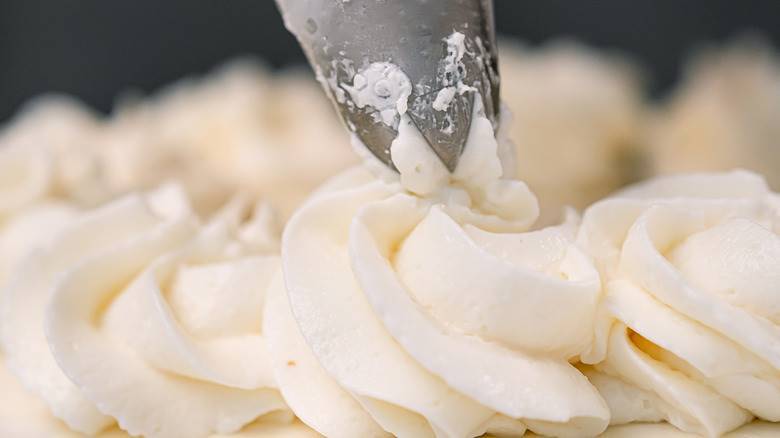 Once you've baked your eggnog cake, it's time to think about the frosting. While creamy  is an obvious choice for the base, you can also opt for a cream cheese icing for something a bit tangier to cut through the sweetness of the eggnog-spiked dough. Whichever route you go, these frostings can easily be elevated with a few additions to help kick up your cake's flavors. 
For instance, you can try adding more of your eggnog into the frosting to enhance the dessert's taste. Or, really bring out the spices in your treat by sprinkling in a bit of nutmeg. For those who prefer a boozy dessert, put a bit of rum (or the same alcohol you used in the batter) into your frosting.
When your icing is made and ready to go, you can also start to think about garnishes. Top your cake with pretzels, grated white chocolate, sugared cranberries, a dusting of nutmeg, or other seasonal treats to add a wow factor. However you choose to decorate your dessert and regardless of which frosting you choose to go with, if you're an eggnog lover, trying out this dessert is a must this holiday season.