Mike Tyson Was the Reason Behind Dwayne Johnson's Boxing Dream Getting Cut Short, 'The Rock' Makes an Unexpected Confession to Joe Rogan
is one of the biggest stars in Hollywood. His success in the WWE transcended into the bright lights of the movie industry. However, that was not Johnson's initial plan for a career. He recently made his debut appearance on the . There, 'The Rock' revealed to about the impact had on the WWE legend's decision not to choose boxing as a career.
Joe Rogan has invited some of the biggest celebrities on his podcast. However, for a long time, fans wondered when 'The Rock' would make his mark on the show. It took Rogan 2000-plus episodes to have the Hollywood A-lister on his show, who made some startling revelations about himself.
Dwayne Johnson told Joe Rogan that he considered a career in boxing when he was 15 years old
'The Rock' has had an amazing career in WWE. He is a former 10-time world champion, a two-time Intercontinental Champion, and a Royal Rumble winner. However, that was not his first choice of career. Dwayne Johnson also thought of becoming a professional boxer.
Johnson told Joe Rogan.
He thought that maintaining discipline and getting the proper training required to be a pro boxer could help him get to the upper echelon of boxing. 'The Rock' added,
Dwayne Johnson also drew inspiration from famed boxer Michael Spinks, who was a champion in both the light heavyweight division and the heavyweight division. said the Hollywood A-lister. However, he changed his mind after witnessing Spinks' boxing match against 'Iron' Mike Tyson.
Johnson gave up his dream of becoming a boxer because of Mike Tyson
Michael Spinks was undefeated with 31 wins in a row before he fought Mike Tyson. But when the fight against 'Iron' happened, he never stood a chance. Spinks lost the fight by knockout in the first round, which led Dwayne Johnson to realize that becoming a champion boxer may not be as easy as he thought.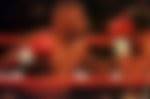 the 51-year-old said. 'The Rock' claimed that even if he had trained to his limit with discipline and hard work, it would still not have been enough to go toe-to-toe against Mike Tyson. Dwayne Johnson added.
It is safe to say that Dwayne Johnson did way better in life by choosing to entertain people in WWE and Hollywood instead of choosing to become a boxer. However, one could only imagine how his life would have been if he had actually become a boxer. That, we will never know, but the one thing we know is that 'The Rock' will continue to be the great action star that he is.
Watch This Story: