We don't know what it is about puff pastry, but walking into a party with an appetizer platter full of the buttery, flaky bites of dough automatically makes you the most popular guest in the room. Typically stuffed with gooey cheese, puff pastry makes for the ultimate hors d'oeuvre, the fluffy crust going far beyond the average water cracker.
There are nearly countless . The sheets of dough are pliable when raw and can be cut, twisted, shaped, and rolled into any shape, then baked into a light and puffy croissant-like texture. To make perfect bite-sized cups, you only need to cut the thawed dough into squares and press them into muffin tins. The result is an airy cup that can hold all the melty cheese, salty bacon, and fresh fruit your heart desires. In this recipe written with developer , our puff pastry cups are filled with gooey halloumi cheese, crisp bacon, and tart pomegranate for a burst of flavor cradled in flaky, buttery dough.
Gather the ingredients for sweet and salty Thanksgiving pastry puffs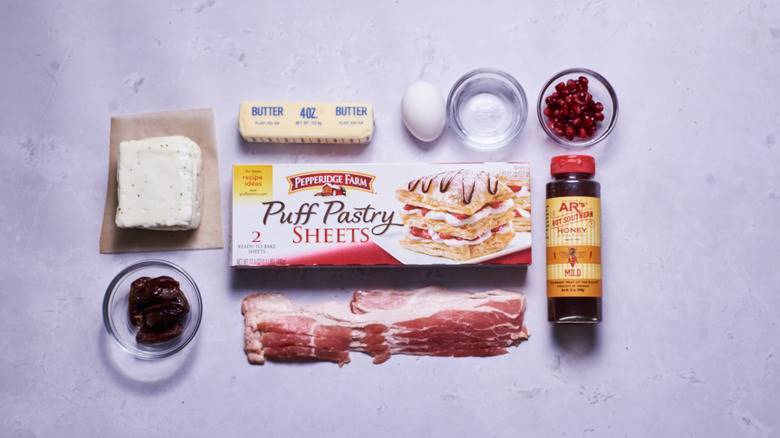 To make 24 pieces (about enough to serve six people for cocktail hour), you'll need one thawed puff pastry sheet. Boxes of puff pastry come with two sheets, so to make nearer to 50 puffs, simply thaw both sheets and double the recipe. From there, you'll need thick-cut bacon, hot honey, dates, and halloumi cheese. To ensure a golden crust, you'll need egg and a splash of water. And for topping, you'll need a handful of pomegranate arils, which you can scrape out of a pomegranate or buy separately.
Step 1: Heat up the oven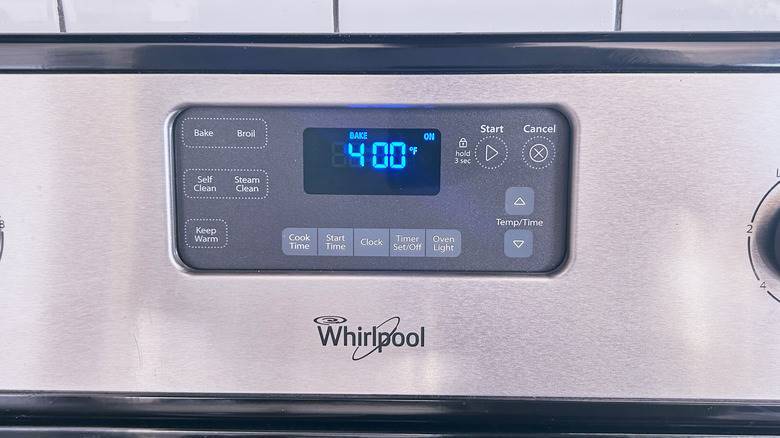 Preheat the oven to 400 F.
Step 2: Add bacon to a skillet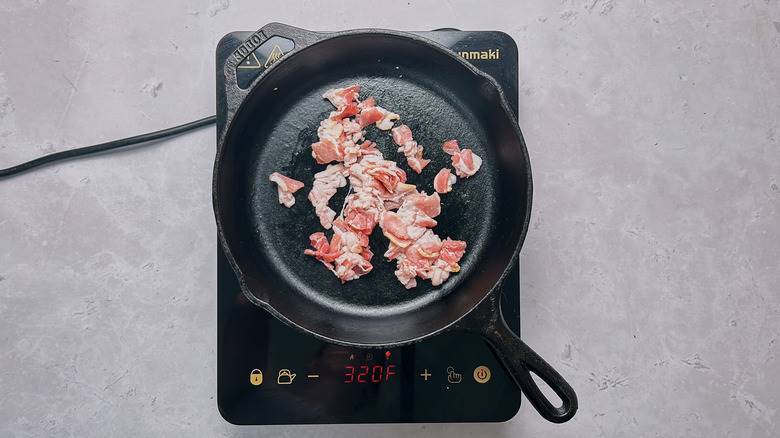 Add bacon to a skillet over medium heat.
Step 3: Brown the bacon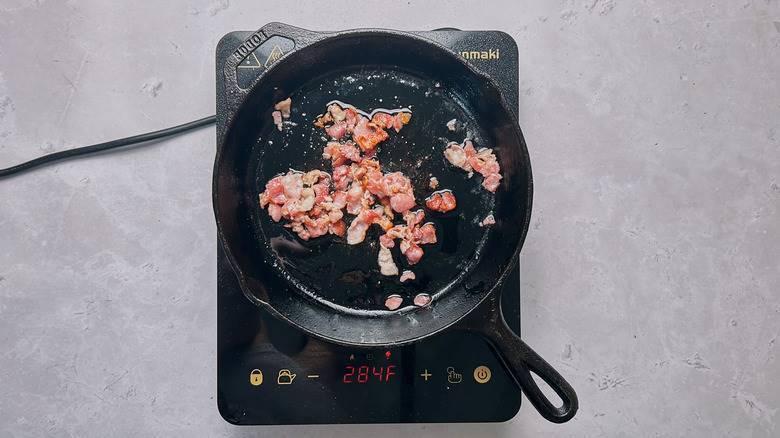 Brown bacon pieces until crispy.
Step 4: Prep a muffin tin
Spray a mini muffin tin with cooking spray.
Step 5: Cut the puff pastry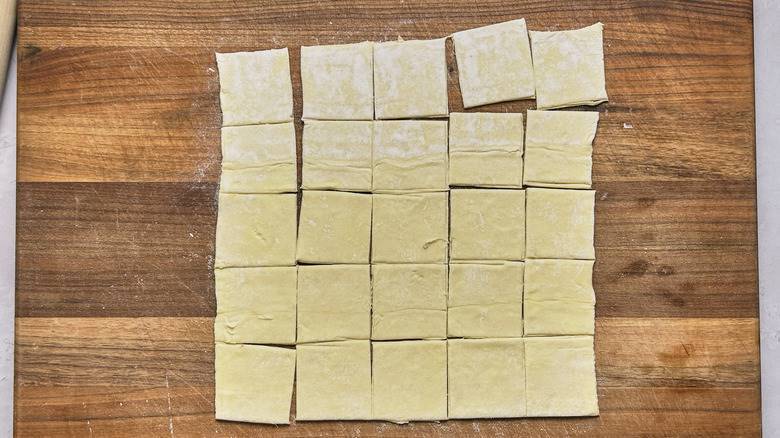 Unfold the puff pastry sheet and roll into a 10-inch square. Cut into 24 2-inch squares.
Step 6: Form the pastry cups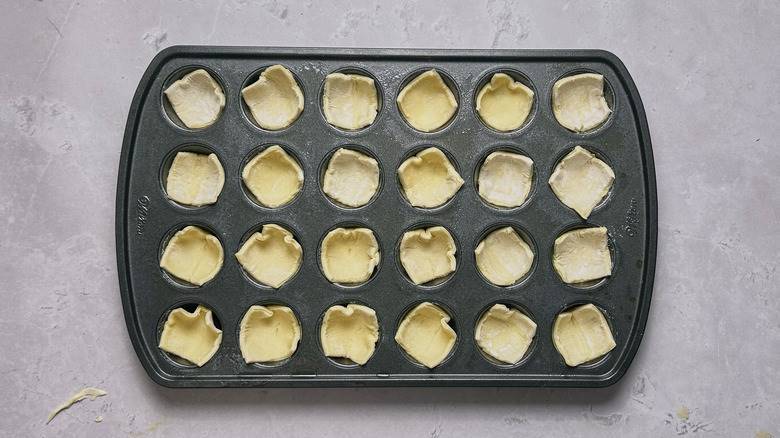 Press the squares into the muffin tin with the corners pointing up.
Step 7: Fill with halloumi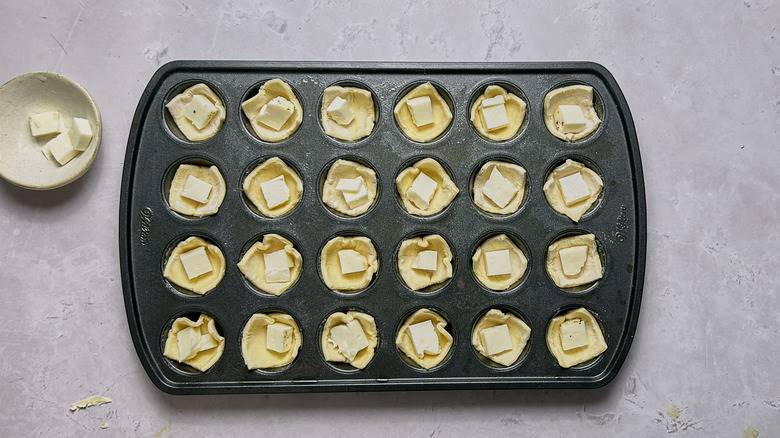 Add a piece of halloumi to each cup.
Step 8: Top with bacon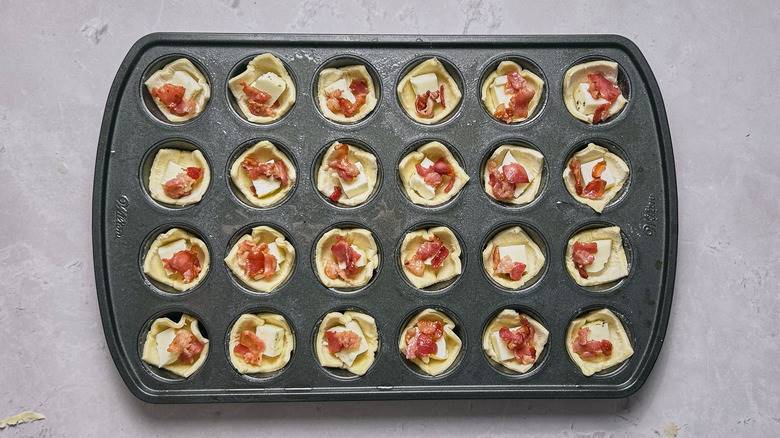 Add the bacon to the halloumi.
Step 9: Add dates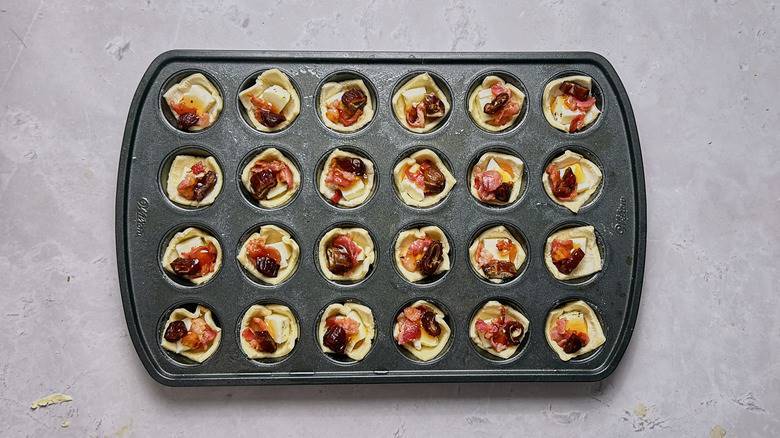 Add dates to each cup.
Step 10: Drizzle with honey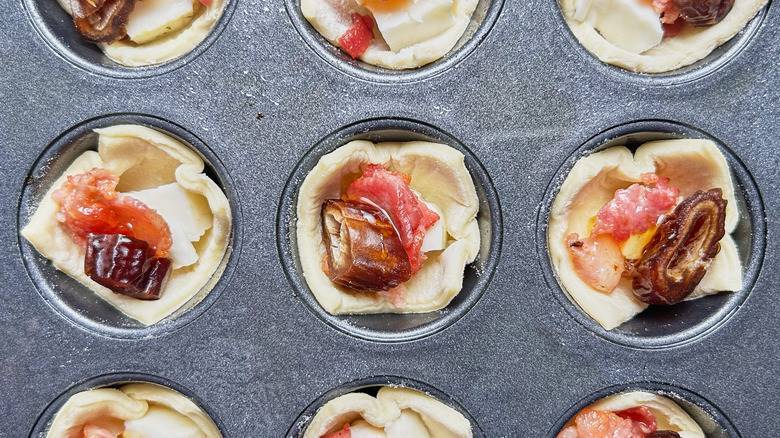 Add a light drizzle of hot honey to each cup.
Step 11: Brush with egg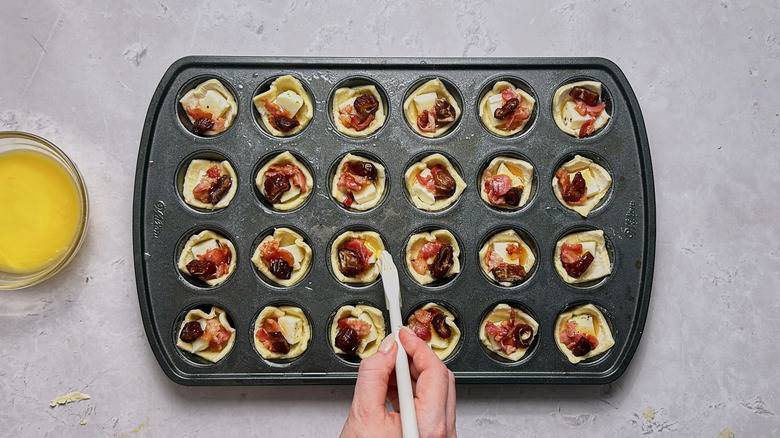 Combine the egg with water and brush onto the tops of the puff pastries.
Step 12: Bake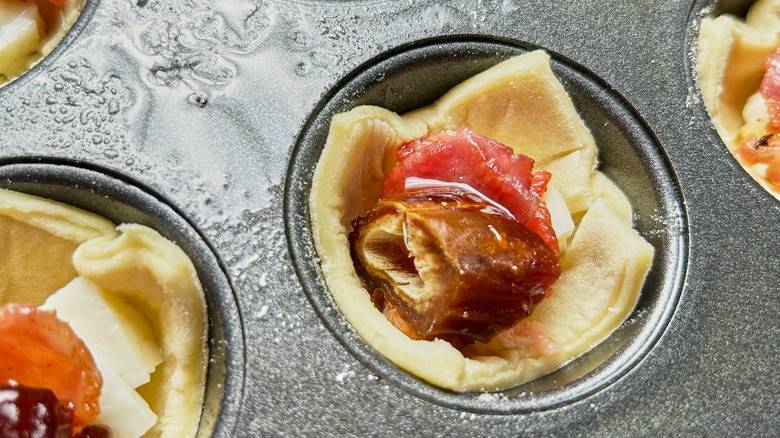 Bake until golden brown and melty inside, 15 minutes.
Step 13: Finish with pomegranate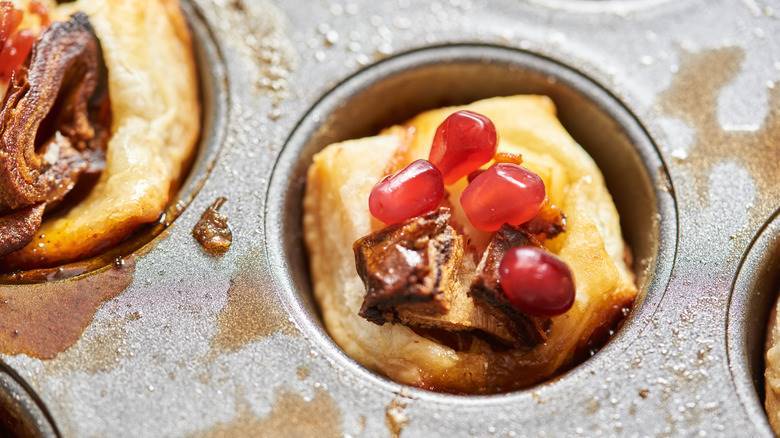 Top with pomegranate arils.
What cheese can I use in Thanksgiving pastry puffs?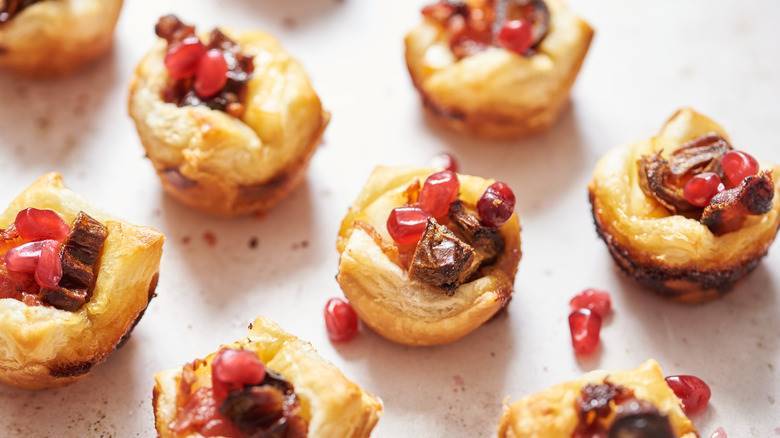 Halloumi is a Mediterreanan cheese that is firm with a soft interior that becomes melty when baked, broiled, or grilled. Similar to , halloumi is salty and tangy, and pairs well with bold flavors like bacon, tomato, and peppers. If you can't find halloumi, the best swap for a similar flavor is feta, which has a stronger flavor but similar melting quality. For a more nutty flavor, swap for goat cheese instead. You can also try mozzarella cheese, fontina, or Gruyère, which melt smoothly into a gooey, melty pastry puff.
You can also swap the other ingredients in these pastry puffs, too. To make these vegetarian, simply omit the bacon crumble or swap for vegan bacon or tempeh. The bacon is the "salty" part of the recipe, so you're looking for salty, crunchy replacements. You can also omit the dates, which add a sweetness similar to molasses to the puff. Consider replacing the date with date syrup, fig glaze, or dried cherries.
How can I store Thanksgiving pastry puffs?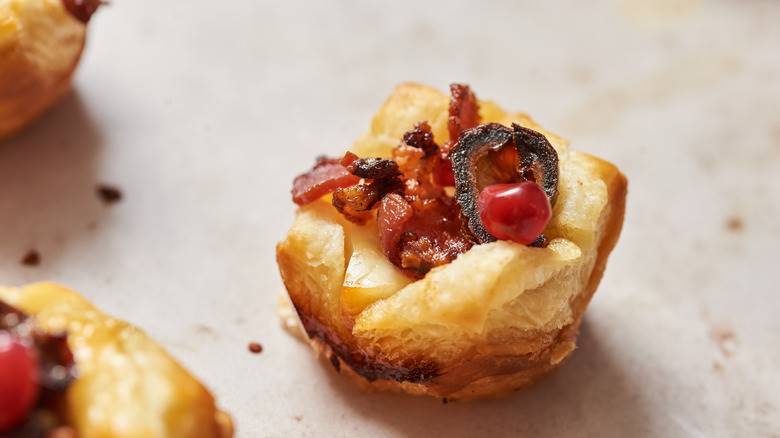 If you happen to have leftovers you don't want to throw away, transfer them to an airtight container and keep them in the refrigerator for 3-4 days. The puffs should be eaten warm, when the pastry is flaky and the cheese is melted. To reheat, we recommend gently reheating in the oven for a few minutes, just until warmed through. Because they are already cooked, the puff pastry can dry out and become stale and hard quickly by overbaking. For this reason, we don't recommend making these ahead of time, because the puff pastry won't taste as airy and light.
To save time before serving, cook the bacon up to three days in advance and store in an airtight container in the refrigerator until ready to use. The puff pastry should only be thawed 40 minutes in advance, so plan to make these sweet and salty pastry puffs right before serving.