Many people believe that salads are a summer dish and that they should be reserved only for too-warm-to-cook days. While can be refreshing on a hot day and are a great way to use all of the glorious summer produce, a hearty chopped salad with just the right combination of flavors and textures is welcome any season of the year.
This recipe for chicken, pear, and walnut chopped salad, created by Tasting Table recipe developer , is a dish that can be enjoyed year-round. Cooling and fresh, but also substantial and satisfying, this salad will fulfill even the fussiest of eaters. This dish is a feast of flavors: Packed full of roasted chicken breast for a big hit of lean protein, as well as sweet pears, toasted walnuts, beets, and dolce Gorgonzola. Finished off with a simple and delicious Dijon and maple salad dressing, this salad is anything but boring.
Perfect served on its own for a healthy and hearty lunch, or as a side salad to pair with other dishes, this chicken, pear, and walnut chopped salad will please just about everyone.
Gather the ingredients for this chicken, pear, and walnut chopped salad recipe
To begin this chicken, pear, and walnut chopped salad recipe, first you will need to gather the ingredients. You will want walnuts, chicken breasts, olive oil, thyme, lettuce, pears, pre-cooked beet, dolce Gorgonzola, and salt and pepper. Additionally, for the salad dressing you will require more olive oil, maple syrup, Dijon mustard, and apple cider vinegar.
Step 1: Preheat the oven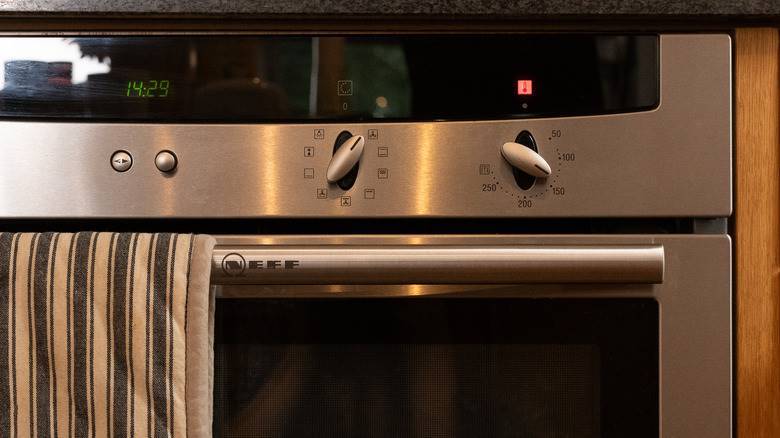 Preheat the oven to 350 F.
Step 2: Toast the walnuts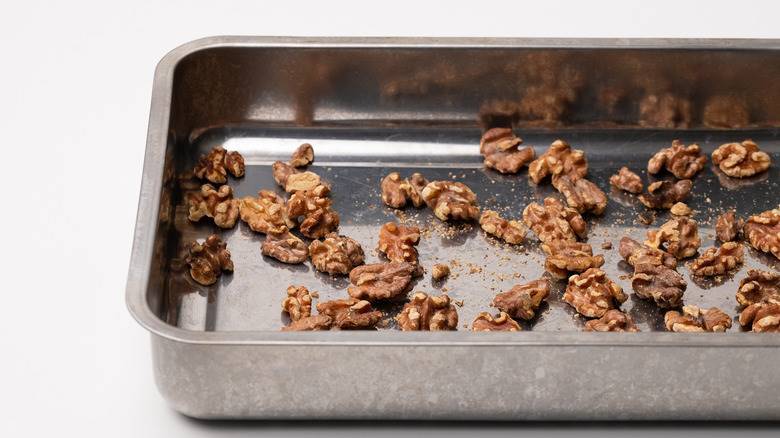 Spread the walnuts on a medium-sized oven tray and toast in the oven for 8 to 10 minutes. Set aside to cool.
Step 3: Prepare the chicken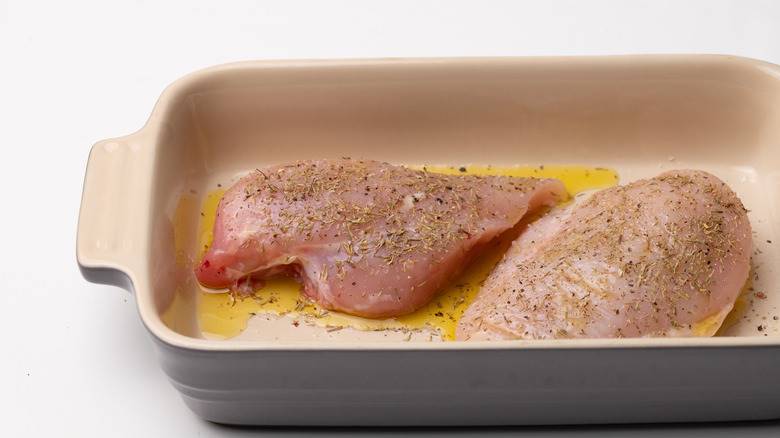 Arrange the chicken breasts in an oven dish, drizzle with 1 tablespoon olive oil, and season with the thyme, salt, and pepper.
Step 4: Bake the chicken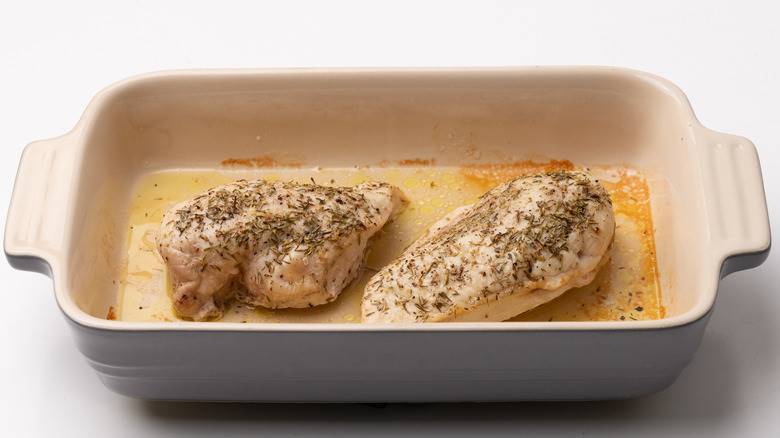 Bake in the oven for 25 minutes until just cooked through, then remove and set aside to rest.
Step 5: Prepare the salad dressing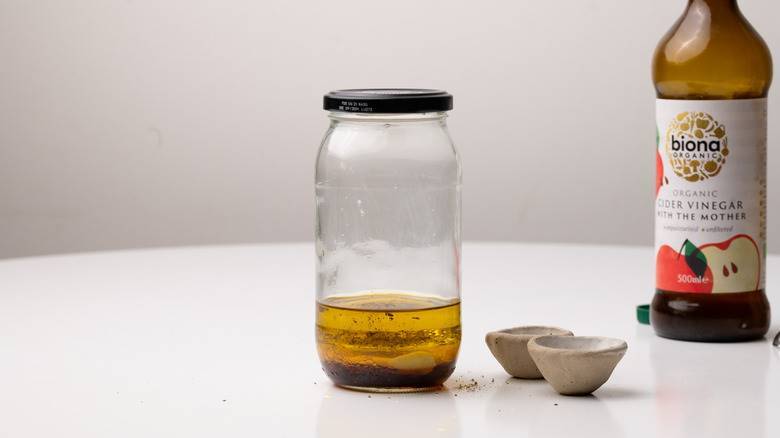 In a jar with a lid, add the maple syrup, the Dijon mustard, the apple cider vinegar, ⅓ cup olive oil, and salt and pepper, to taste.
Step 6: Mix the salad dressing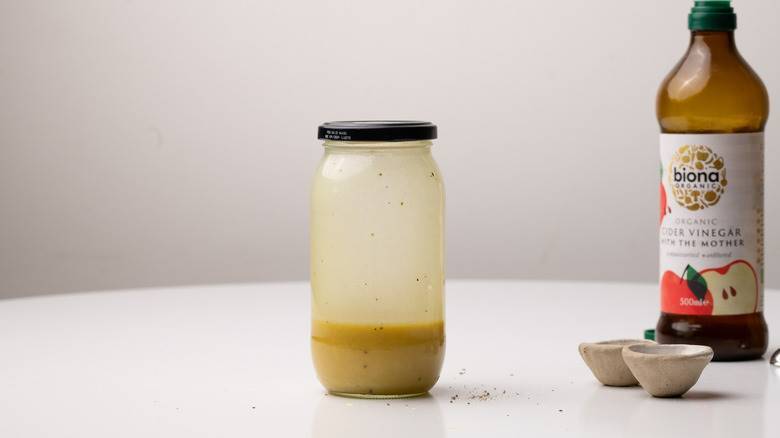 Place the lid securely onto the jar and then shake the ingredients for 10 to 15 seconds until well combined. Set to one side.
Step 7: Chop the chicken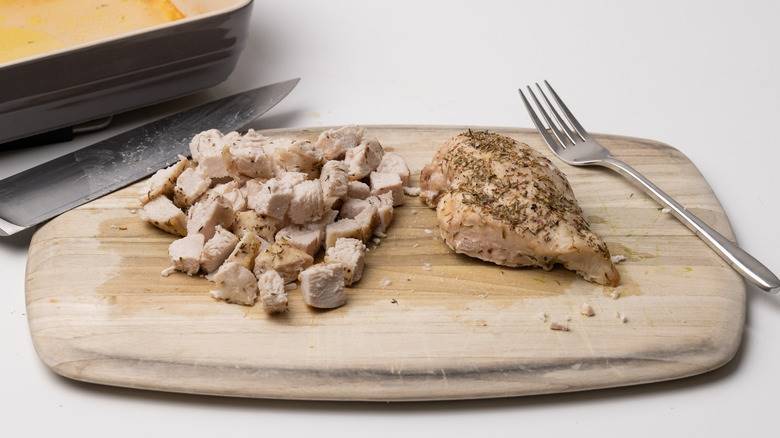 Chop the chicken into bite-sized pieces.
Step 8: Chop the walnuts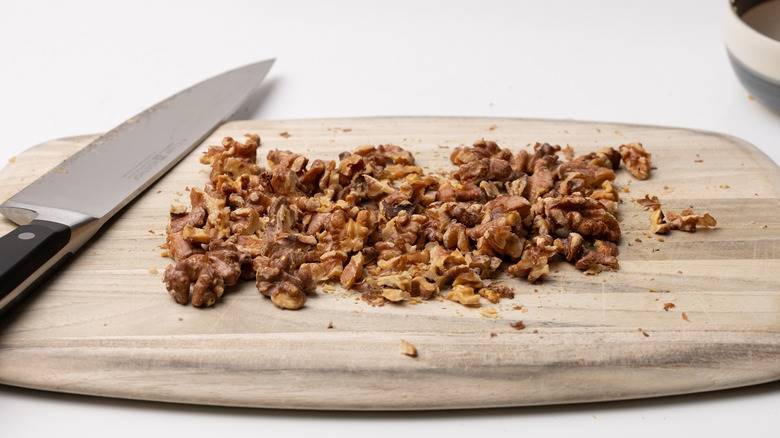 Chop the walnuts into pieces.
Step 9: Combine the salad ingredients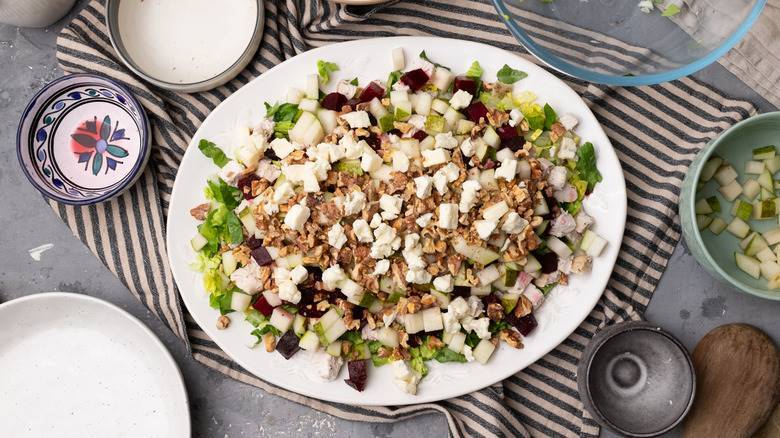 In a large bowl or on a platter, combine the lettuce, pear, beet, Gorgonzola, chicken, and walnuts.
Step 10: Add the salad dressing and serve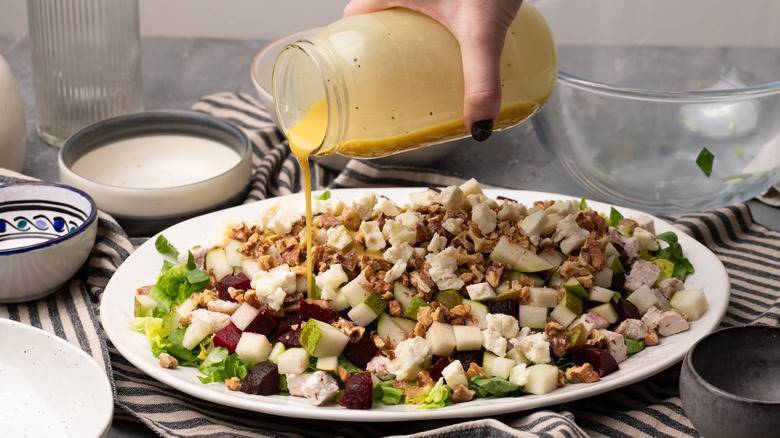 Drizzle the mixed salad dressing over the top and toss to fully coat it in the dressing immediately before serving.
How can this chicken, pear, and walnut chopped salad recipe be adapted?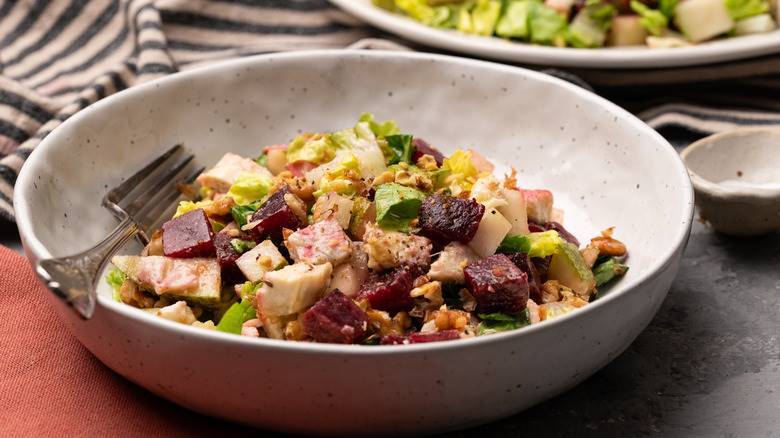 One of the great things about salads is how adaptable they are. Unlike a cake or a pastry, which rely on the chemistry between specific quantities of different ingredients to work properly, salads can be easily customized without causing the recipe to fail. This dish can be adapted for those who follow a vegetarian diet simply by omitting the chicken. You may want to consider an alternate ingredient in its place, such as a plant-based chicken substitute, which would keep the dish close to its original format. You could also sweeten up the dish by using roasted squash or sweet potatoes to add a great pop of color as well as flavor.
The ingredients for this chicken, pear, and walnut chopped salad are quite autumnal, but it can be adapted for different seasons. Simply swap any out-of-season ingredients for those that are at their freshest any given time of year. Finally, if you prefer your cheese to be a little less pungent, you could swap out the Gorgonzola for other ; we recommend feta or Manchego as different, delicious options for this salad.
How should this chicken, pear, and walnut chopped salad be stored?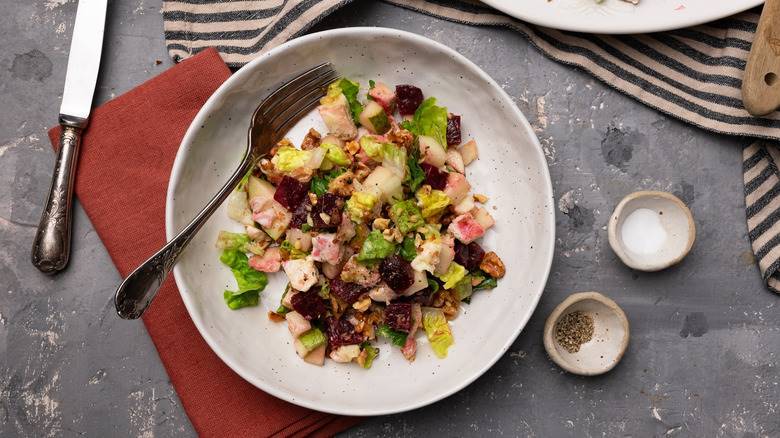 Keeping a salad fresh once it has been made can be quite tricky, if you don't finish it in one go it can become soggy and unpleasant. However, if stored correctly, this chopped salad can last well for up to 3 days in the fridge and can make for a great meal prep option for the week ahead.
The first and perhaps most important thing is to hold off on dressing the salad until you are ready to eat the meal. So if you make it in advance to take to work for a few days, keep the dressing in a separate small Tupperware tub and dress at the last minute to help keep your salad nice and crisp. Secondly, for an easy hack, into your storage container before sealing it, and then store the salad in the fridge upside down. Sealing the box will help the salad retain moisture, and the paper towel will absorb any excess moisture that would otherwise make your lettuce soggy.