Game of Thrones .
Winter is finally here.
After seven seasons of constant warnings, the Night King's army blasted down the Wall that had magically protected Westeros from the White Walkers in last season's climatic finale.
And the season 8 premiere on Sunday night wasted no time getting into the action — or bringing the nostalgia. From a basic recreation of the first episode to 's Jon Snow finding out who he really is, the show is taking its limited six-episode run seriously.
Read on for all that went down in the beginning of the end.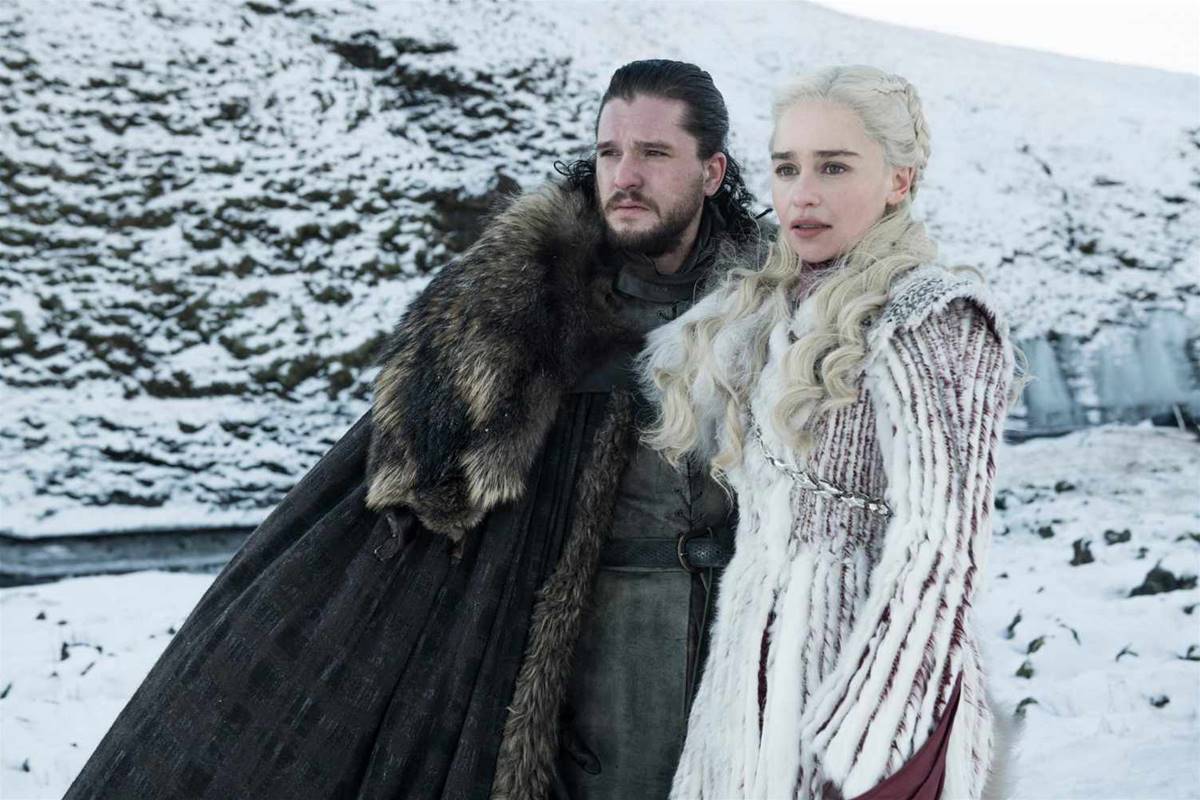 It all starts off with a disconcerting bang, as new opening credits play for the first time ever since the show debuted in 2011. This time, we get an intimate look at Winterfell and King's Landing, the two locations where the story will primarily take place.
The actions starts with Daenerys Targaryen () and Jon Snow marching into Winterfell, as an unnoticed Arya Stark () watches from the crowd. If the scene feels familiar, it's because it almost exactly recreates King Robert riding into the northern town all the way back in the very first episode of the show. The nostalgia is real, folks.
WATCH: Final Season: What Souvenirs Did You Take From Set?
The parade also offers Arya the first look at her (ahem) brother Jon since that episode, with the close siblings (or so they think … ) being separated for the entire run of the show until now.
Dany and Jon are accompanied by their allies, and the Northerners don't look impressed at the procession riding into their home, but they are definitely shocked by her two remaining dragons as they fly over the castle.
Not surprisingly, even the Lady of Winterfell, Sansa Stark (), isn't impressed by Dany's arrival, and receives her with a hilariously icy greeting that catches Dany by surprise. It's the first of a few scenes between these two powerhouse actresses.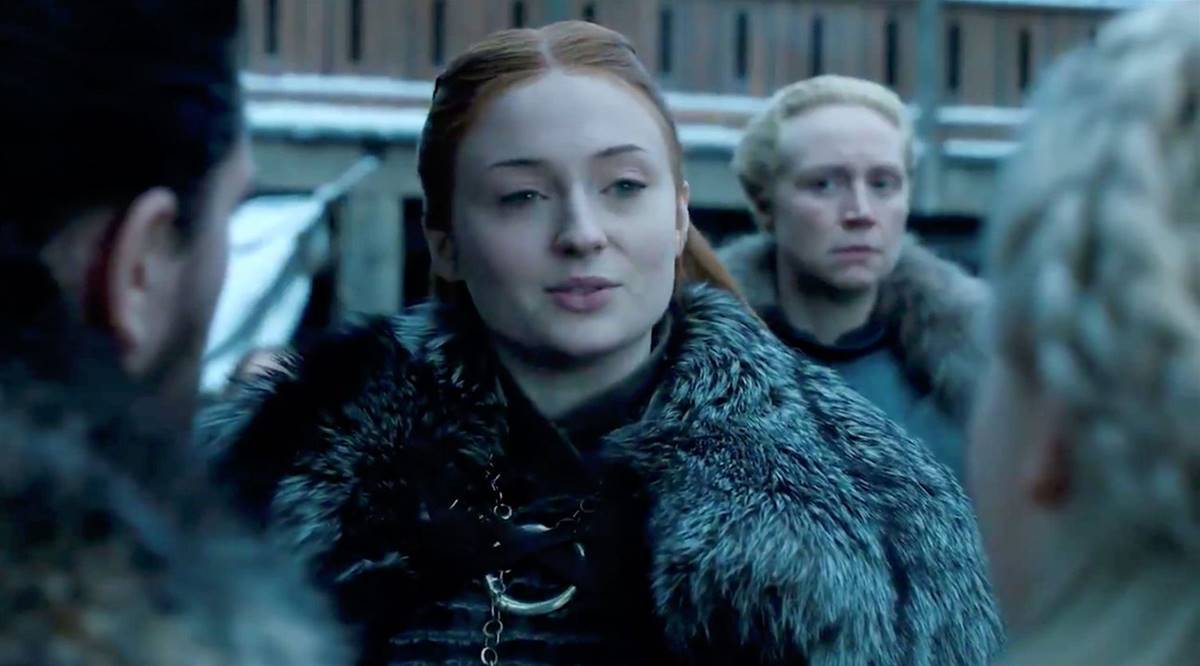 After the tense family scene, Jon again has to answer for his decision to bend the knee to the Mother of Dragon after he was crowned King in the North. Chief among the dissenters is little Lyanna Mormont (Bella Ramsay), who reminds him that they pledged themselves to him, not Dany.
But it was a simple choice for Jon, who explains that he chose between keeping his crown or protecting his people.
Luckily, Jon still has one Stark sister on his side, and he finally reunites with Arya in an emotional moment seven seasons in the making. After comparing swords (she still has needle, he shows her the Valyrian steel blade he got from former Commander Mormont), Arya reminds Jon that Sansa is just doing her best to protect their family.
"I'm our family, too," Jon responds, a moment that winks at the overwhelming truth he has yet to discover.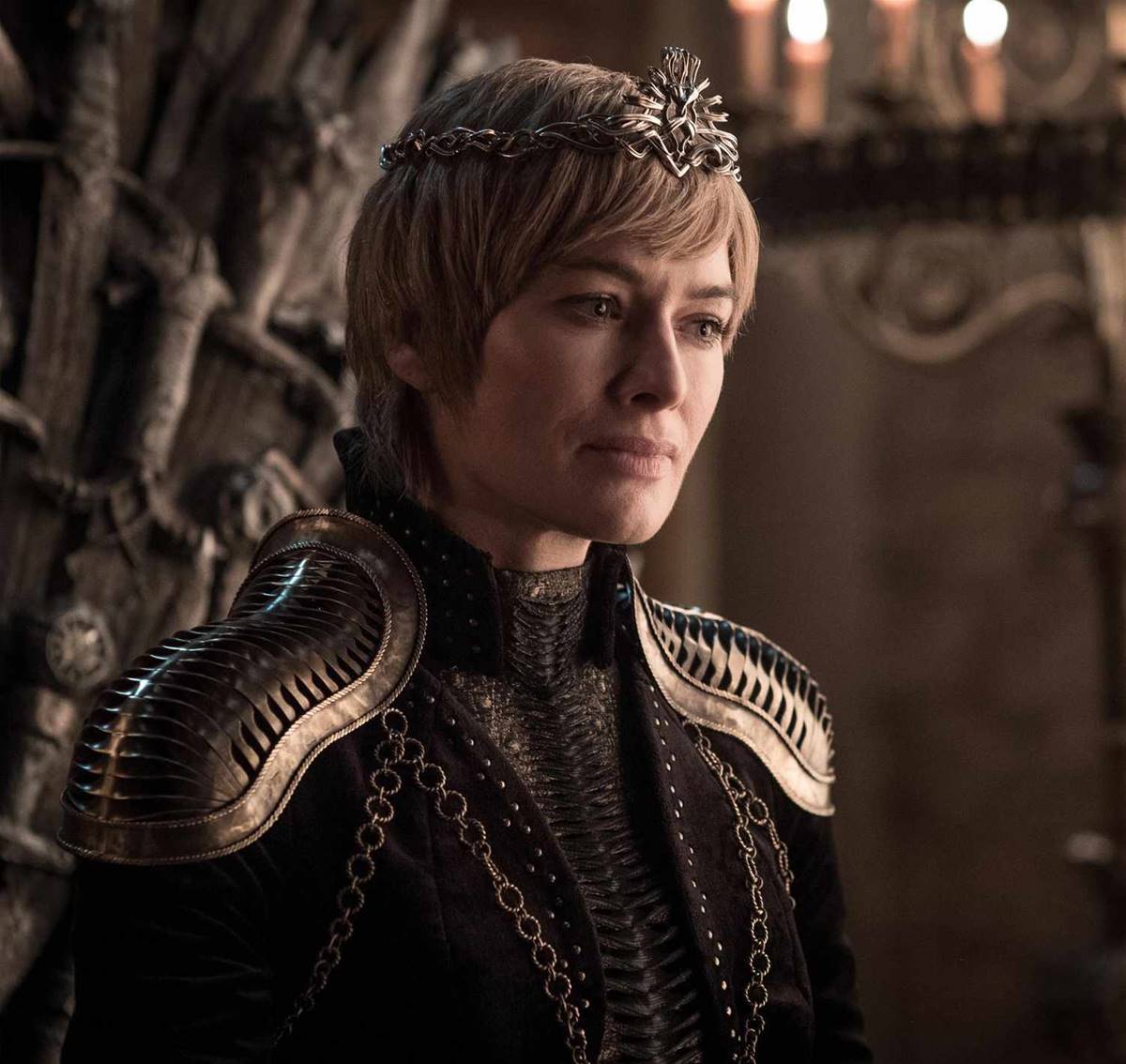 But first, let's check in with Lena Heady's Cersei Lannister, who receives good news in King's Landing when Euron Greyjoy returns with the Golden Company army.
There's one thing he can't help her with, though, as Cersei is still recovering from the sting of her brother/lover Jamie's betrayal at the end of last season, when he left to fight with Dany and Jon. She enlists fan-favorite sellsword Bronn to kill her two brothers. Tough twist for Westeros' most hated couple.
Euron is about to lose his most prized possession as his nephew Theon (Alfie Allen) pulls off what is easily the least-eventful rescue in history when they take his sister Yara back from him. Something is finally going right for Theon!
The two quickly part ways when she plans on heading back to the Iron Islands while Theon decides to return to Winterfell and fight with Jon.
WATCH: The Cast Members Are Friends In Real Life!
Back in the North, Dany's advisers Tyrion Lannister (Peter Dinklage), Ser Davos Seaworth (Liam Cunningham) and Varys (Conleth Hill) discuss how close Dany and Jon have gotten, and Davos proposes they marry to make their side even stronger.
The three men are overlooking Dany and Jon while having this conversation, and the two look like they're still riding high after their hookup in the end of the last episode.
Nothing proves that more than when Dany encourages Jon to hop on the back of her dragon Rhaegal.
It's the first time anyone other than Dany has ridden a dragon on , and the moment is sure to be a big one for fans who always theorized that Jon would be the one to ride alongside Dany. We'll get into the why of it all in just a moment, but let's let the lovebirds have some fun first.
The two ride off on the dragons, and Jon quickly proves that he can hold his own with Dany after first struggling to stay on the massive beast.
The later land by a stunning waterfall, where they start kissing before Jon looks up to see her dragons standing over them in a hilarious over-protective way. Looks like he's going to have to work a little harder to win them over.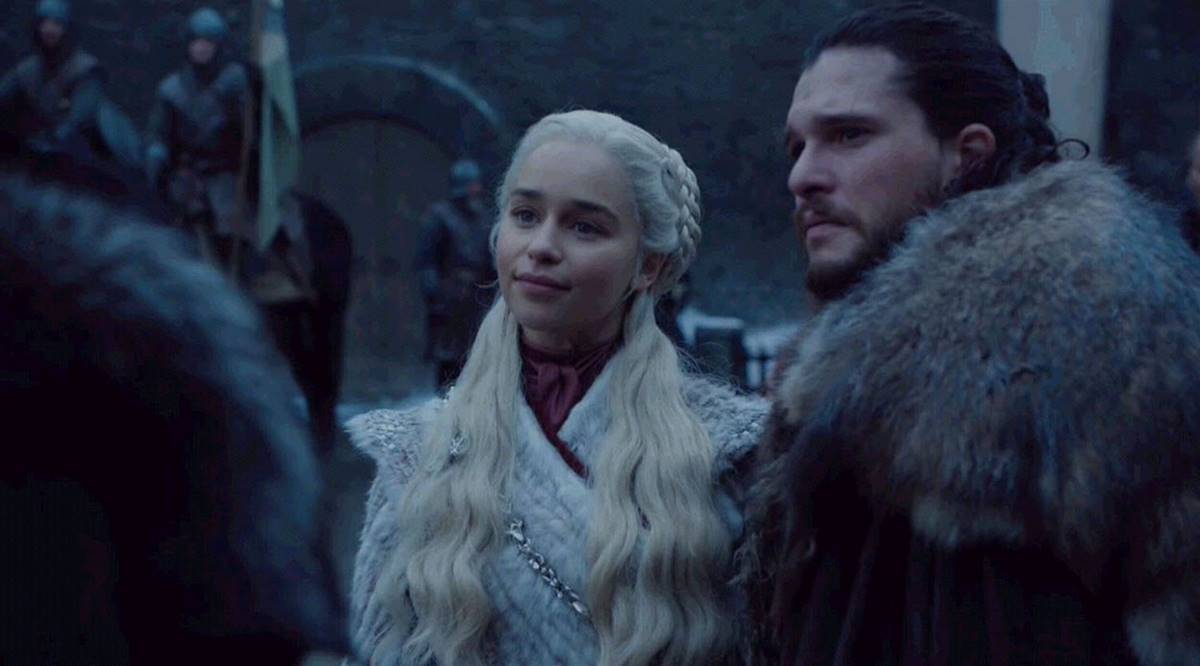 Dany and Jon head back to Winterfell, where a tense conversation with Sansa awaits Jon. She's not happy he bent the knee, and more than once suggests it's because he's in love with Dany.
Meanwhile, Dany is having a hard conversation of her own when she's forced to tell Sam Tarly (John Bradley) that she executed his father and brother. He leaves crying and runs into Bran Stark (Isaac Hempstead Wright), who declares that it's finally time to tell Jon who his real parents are.
It's the moment fans have been waiting for ever since their suspicions were confirmed last season, and Sam happens to find Jon in an especially sentimental place: the Winterfell crypts where both Ned and Lyanna Stark, his real mother, are buried.
WATCH: Kit Harington Says He Totally Lost It Over Ending: 'I Blubbed My Eyes Out'
After Sam confronts Jon about what Dany did to his family, he angrily yells that Jon is the rightful heir to the Iron Throne. His real mom is Ned's sister Lyanna, and she wasn't kidnapped by Prince Rhaegar Targaryen. Instead, the two were in love and married before Jon was born. His real name is Aegon Targaryen, and he holds the claim to the throne.
Jon is shocked to find out that Ned, the man who he thought was his father and is seen as the moral compass of the show, "lied to me all my life."
"You're the true king," Sam replies, and brings Dany back into it when he points out that Jon bent the knee to her because he thought she was the rightful heir.
"Would she do the same?" Sam asks him, leaving Jon unable to answer.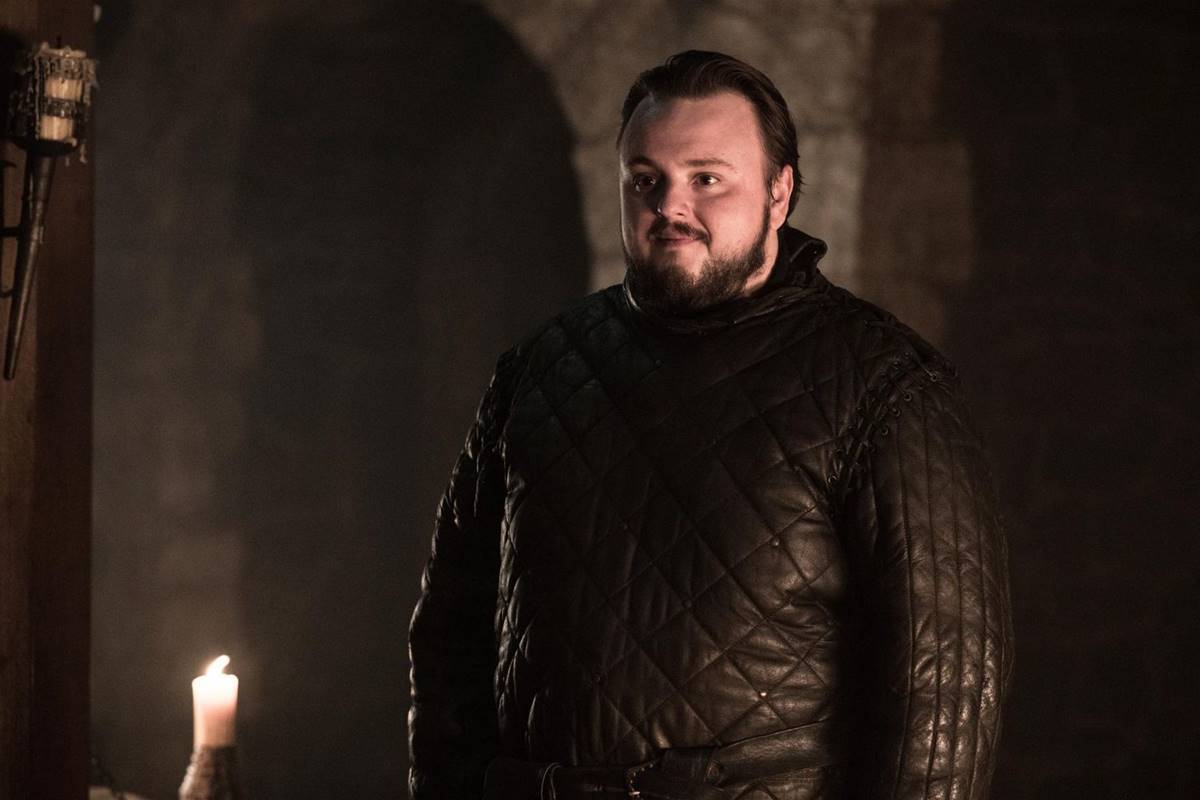 The tense scene ends as another fan-favorite character, Kristofer Hivju' Tormund Giantsbane, finds himself in a scary situation when he tries to help the Umbers get back to Winterfell. Horrifyingly, the whole Umber clan has been taken by the White Walkers, and little John Umber was left behind as an undead warning sign.
The action-packed episode ends with Jamie Lannister (Nikolaj Coster-Waldau) arriving at Winterfell and immediately locking eyes with Bran. He looks pained as the screen fades to black, and for good reason. The last time these two saw each other, Jamie pushed Bran out of a tower window when he caught Jamie and Cersei together.
Looks like Jamie will finally have to answer for his crimes.
airs Sunday at 9 p.m. ET on HBO.