It's fall, y'all, the beloved season of warm spices, crisp air, , and crunchy leaves on the pavement. When autumn rolls around, berries and melons take a backseat, and apples, pears, and pumpkins can have their deserved time in the spotlight. We've got the perfect treat to pair with your  this year: air-fried apple fritters. This is the ideal recipe to use up a surplus of hand-picked apples from your local orchard. The warm spicy apples and moist comforting crumb are topped with a creamy, tangy buttermilk glaze, to achieve a perfect balance of fall flavors.
Unlike traditionally fried, these don't call for a huge amount of oil or require the sometimes dangerous and messy task of deep frying. After you mix up a quick batter with fresh apples, the air fryer will do the rest of the work for you, in half the time it would take to deep fry a batch. These simple yet tasty fritters are an excellent choice for bringing to potlucks or holiday dinners, or just to enjoy for a cozy night at home. 
Gather the ingredients for air fryer apple fritters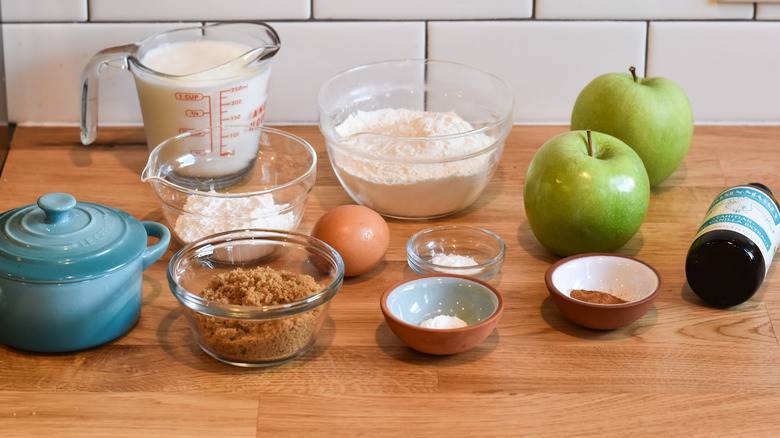 Let's gather the ingredients together to make a batch of air-fried apple fritters. Of course, you'll need apples — two Granny Smith apples are ideal here, but any other variety will also work fine. A cup of buttermilk will keep these fritters moist, give them a doughnut-like flavor, and also counter some of the sweetness from the sugar since it's tangier than regular milk. Brown sugar will also help attain the perfect moisture and sweetness levels. Besides that, you'll need vanilla extract, all-purpose flour, cinnamon, baking powder, and baking soda for the fritter batter. Once the fritters have been air-fried, use a simple mix of buttermilk and powdered sugar to glaze them.
Step 1: Combine the dry ingredients for the fritter batter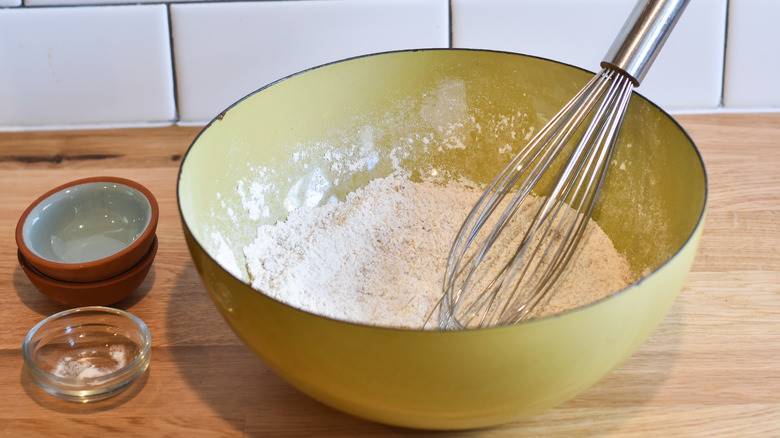 Add flour, cinnamon, baking powder, baking soda, brown sugar, and salt to a mixing bowl. Whisk to combine and set aside.
Step 2: Combine the wet ingredients for the fritter batter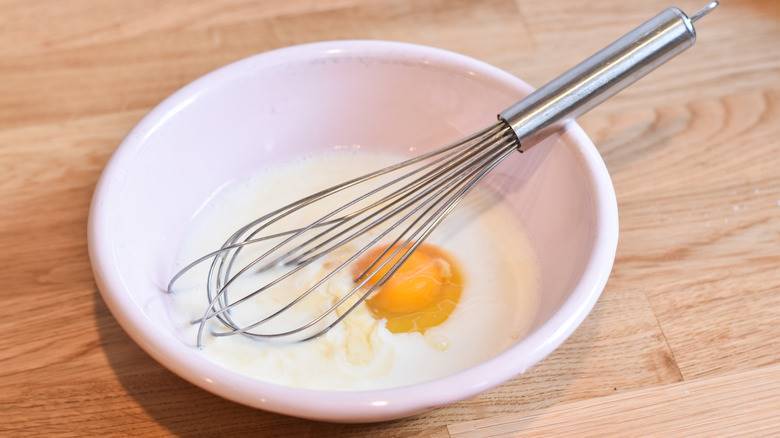 Combine the egg, 1 cup buttermilk, and vanilla.
Step 3: Peel and cube the apples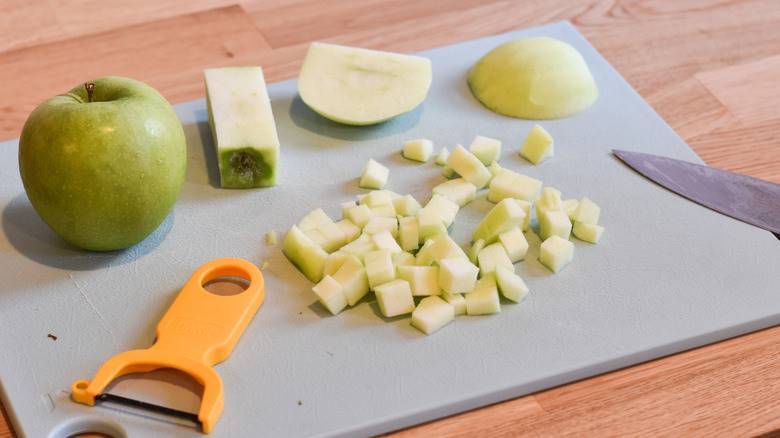 Peel the apples and cut them into ¼-inch cubes.
Step 4: Combine wet and dry ingredients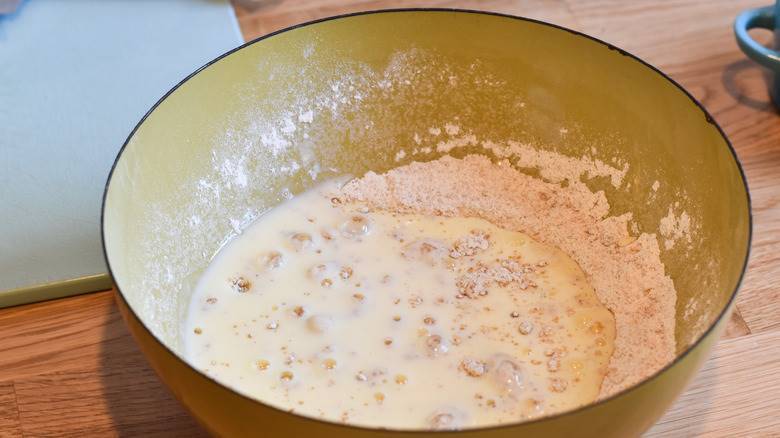 Pour the wet ingredients into the dry ingredients. Mix until combined.
Step 5: Add the apples to the fritter batter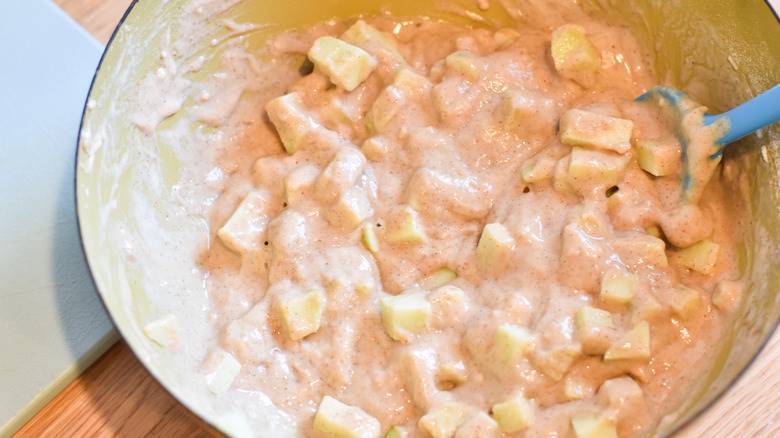 Add the cubed apples and fold them into the batter with a spatula.
Step 6: Prepare the air fryer tray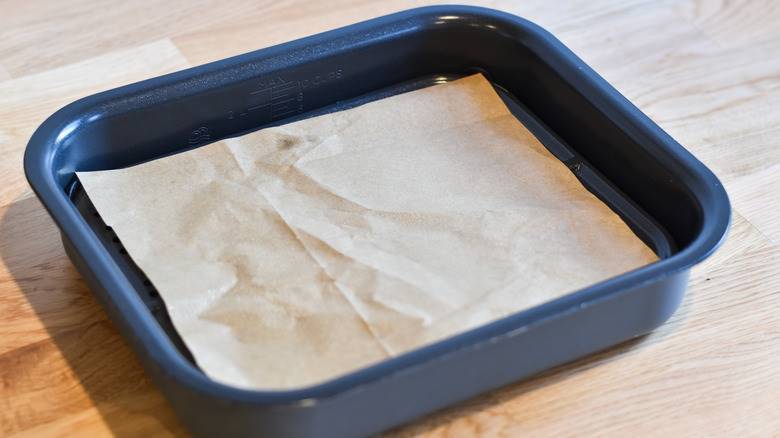 Line the air fryer tray with parchment. Spray with cooking spray.
Step 7: Add the apple fritter batter to the tray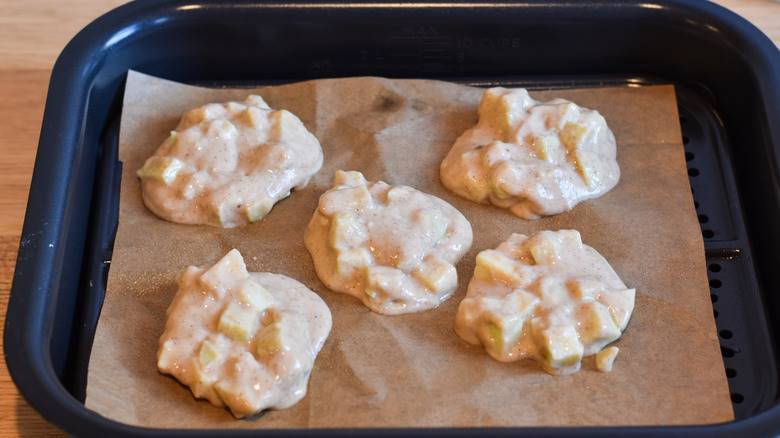 Dollop ¼ cup of batter onto the lined tray. Repeat, leaving a ½-inch of space between each.
Step 8: Air fry the apple fritters
Air fry 7-9 minutes at 400 F. Prepare more batches as needed.
Step 9: Make the glaze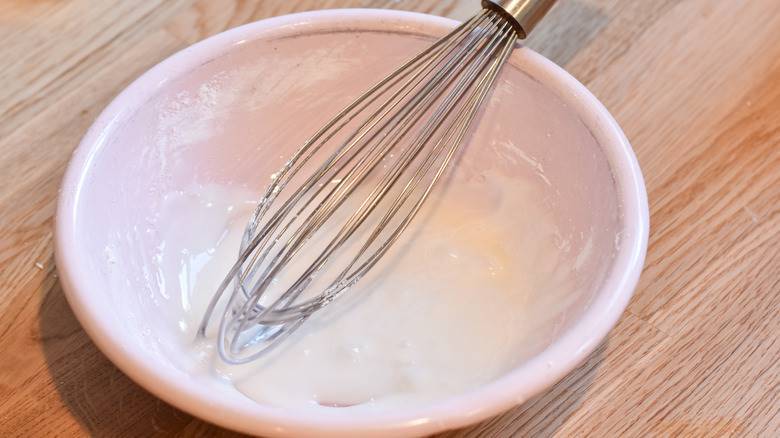 While fritters are cooking, whisk together powdered sugar and 2 tablespoons buttermilk in a small bowl until smooth.
Step 10: Drizzle the glaze over baked fritters with a spoon. Serve warm.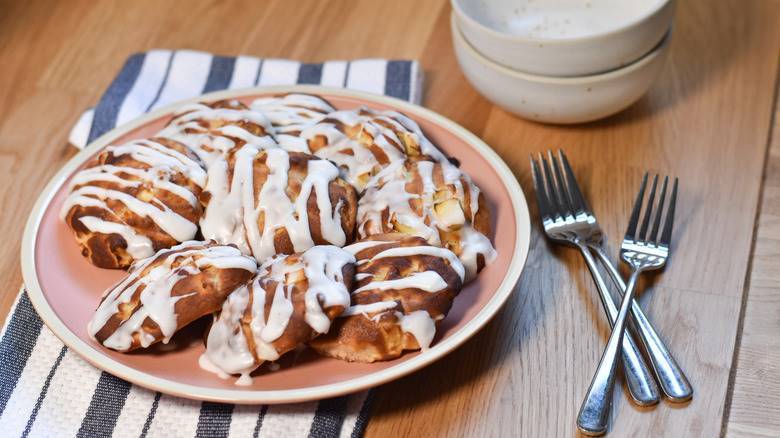 Drizzle the glaze over baked fritters with a spoon. Serve warm.
What should I serve with air fried apple fritters?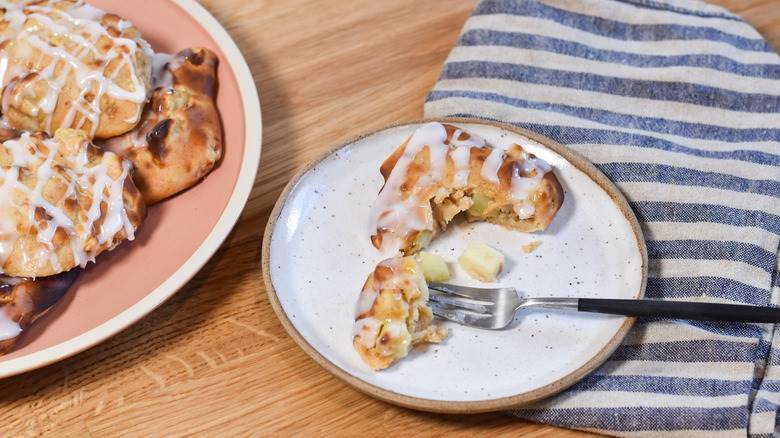 Now that you've made your air fryer apple fritters, you might be wondering what to enjoy them with. They're perfect for dessert after a comforting meal, so of course you can enjoy them on their own, but adding a dollop of cool whipped cream or vanilla ice cream would take them up a notch. For a holiday gathering, apple fritters make an excellent addition to a dessert table. Whip up some other small baked goods, like or , and serve them together on a large platter so guests can have options. 
You could just go for a tall glass of cold milk — oat, almond, soy, or dairy — but some special fall-themed beverages will make for a full festive experience. For extra warmth and comfort try making a hot beverage — hot chocolate, hazelnut coffee, or spicy chai are all great options. A big batch of mulled apple cider would be perfect with these, especially if you're serving them at a holiday party. Our  can be prepared ahead of time and be left simmering while the fritters bake. If you're feeling boozy, an  would go nicely with these fritters.
Can I make vegan or gluten free apple fritters?
Some baked goods can be hard to adapt to specific dietary restrictions or allergies, but these apple fritters are fairly flexible thanks to the short ingredient list. If you want to make them vegan, you'll have to omit the buttermilk and eggs: luckily, that's a fairly easy swap. 
To make a vegan buttermilk substitute, try adding 1 tablespoon of lemon juice to 1 cup of soy, almond, or oat milk. Adding acid to the dairy-free milk will make it closer to the tangy and slightly acidic flavors and properties of buttermilk. As far as the egg in the recipe, try using a flax egg or a vegan egg powder product according to the instructions on the package. To make these gluten-free, all you have to do is swap out the all-purpose flour for a gluten-free flour, in a cup-for-cup substitute. The recipe will work just the same.