Brussels sprouts used to get a bad rap, but these days they've been enjoying some time in the spotlight. Most New American restaurants or trendy gastropubs offer some sort of roasted Brussels sprouts on the menu, perhaps tossed in a tangy glaze or served with a creamy dipping sauce. There's an enduring pleasure in the simplicity of a nice plate of , seasoned sprouts, but if you want to take things to the next level, look no further than 's recipe for Parmesan pastry-wrapped Brussels sprouts.
"This is the perfect vegetarian version of classic pigs in a blanket," Rosenhouse says. "The smokiness of the roasted Brussels sprouts pairs so nicely with the umami flavor of Parmesan cheese, enhanced with salt and pepper, and wrapped in crisp puff pastry for that traditional pigs in a blanket presentation. Dipping the finished Brussels into a maple-mustard sauce just puts it all over the top." These pillowy, cheesy, savory sprouts make a great snack any time of day, and they'll surely be a memorable part of your next party's appetizer spread. Plus, frozen puff pastry sheets make this process a snap. Here's how to make them.
Gather your ingredients for parmesan pastry-wrapped brussels sprouts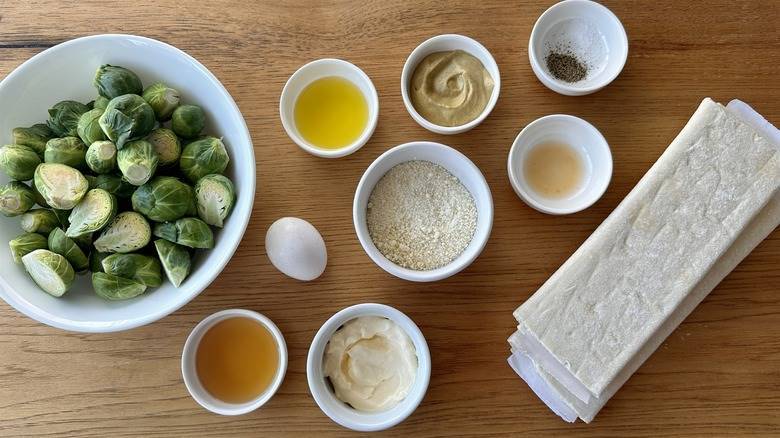 In addition to Brussels sprouts, this recipe requires olive oil, Parmesan cheese, an egg, mayonnaise, maple syrup, Dijon mustard, apple cider vinegar, frozen puff pastry sheets, and salt and pepper. "Any type of acid can be used in the place of the apple cider vinegar, including white vinegar, champagne vinegar, white wine vinegar, or lemon juice. It can also be skipped if you prefer a less acidic sauce," Rosenhouse notes.
Step 1: Prep the oven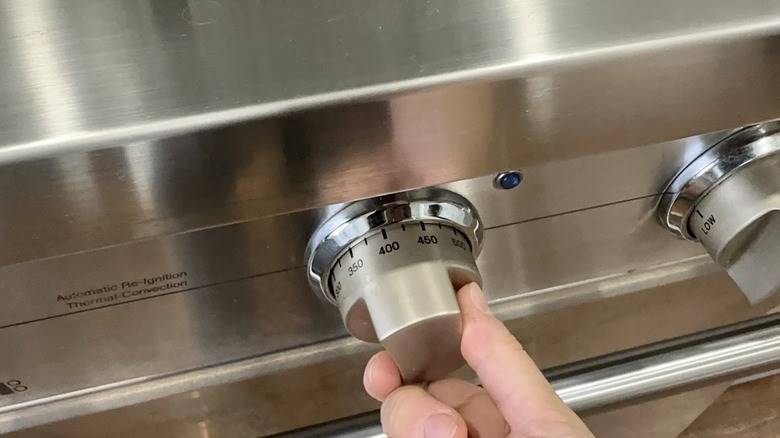 Preheat the oven to 425 F.
Step 2: Prep your pan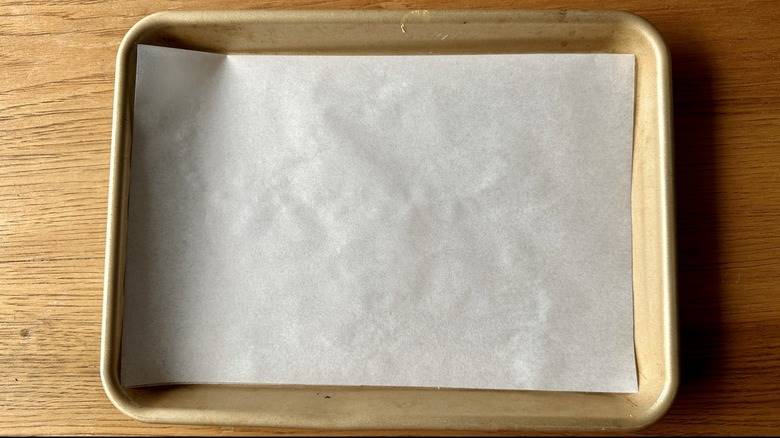 Line a small rimmed baking sheet with parchment paper.
Step 3: Season the sprouts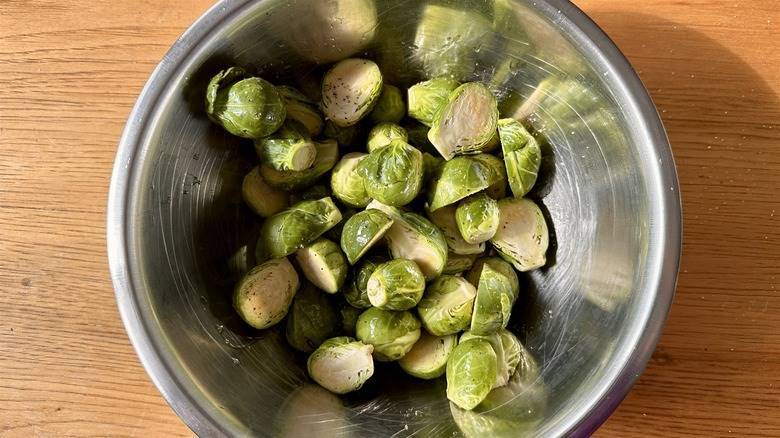 Toss the Brussels sprouts in a medium bowl with olive oil, salt, and pepper to coat.
Step 4: Get ready to bake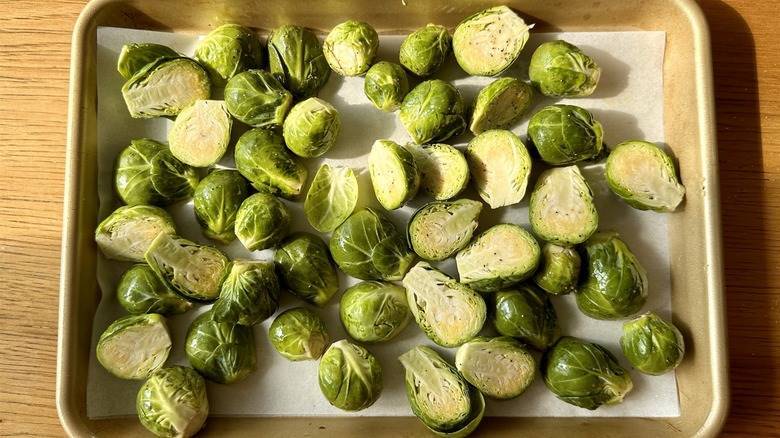 Pour evenly onto prepared baking sheet.
Step 5: Bake and flip the sprouts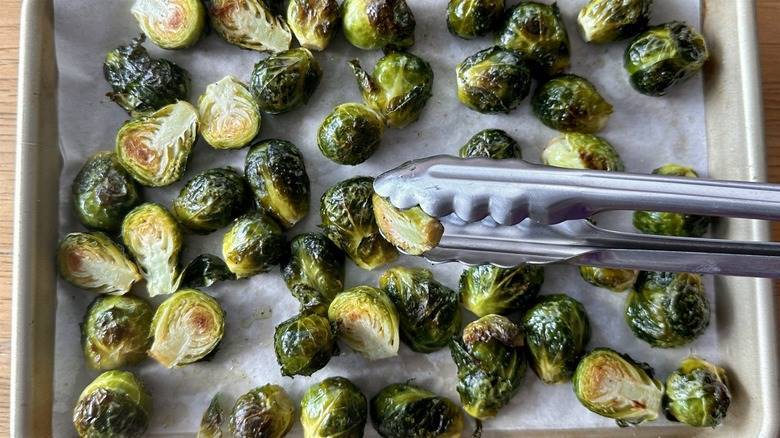 Bake for 10 to 12 minutes, then remove from the oven and flip the Brussels sprouts.
Step 6: Roast the sprouts till browned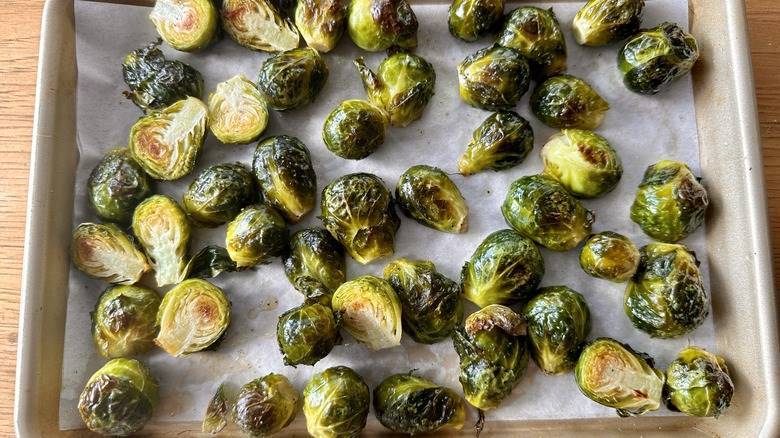 Bake for an additional 8 to 10 minutes until browned.
Step 7: Add some cheese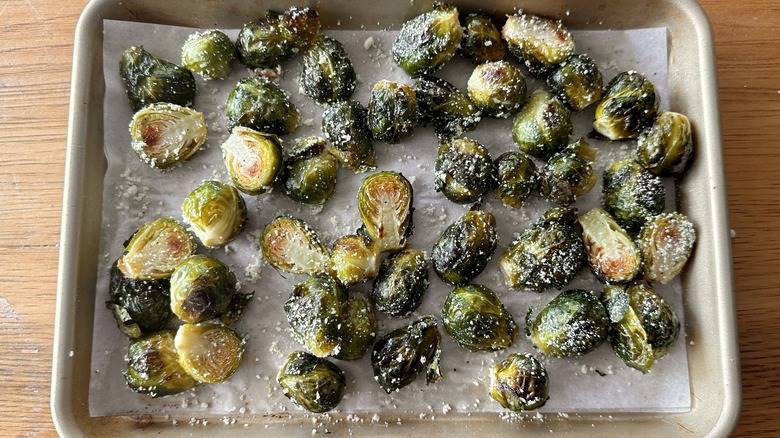 Sprinkle Brussels sprouts with ¼ cup Parmesan cheese and toss to coat; set aside.
Step 8: Make your egg wash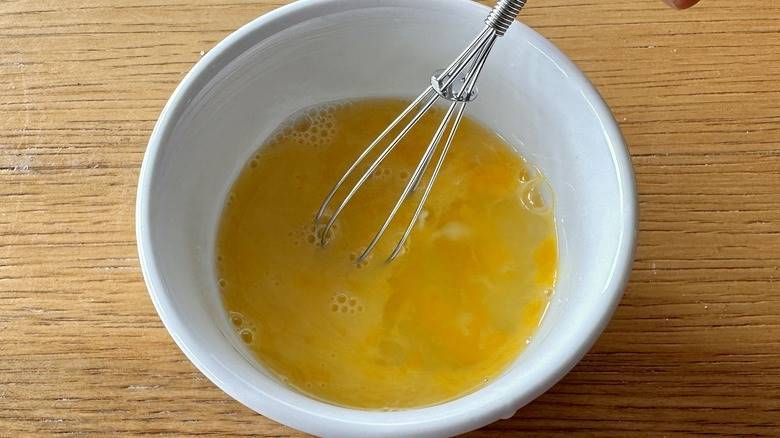 Whisk to combine the egg with a splash of water. Set aside.
Step 9: Begin working with your pastry sheets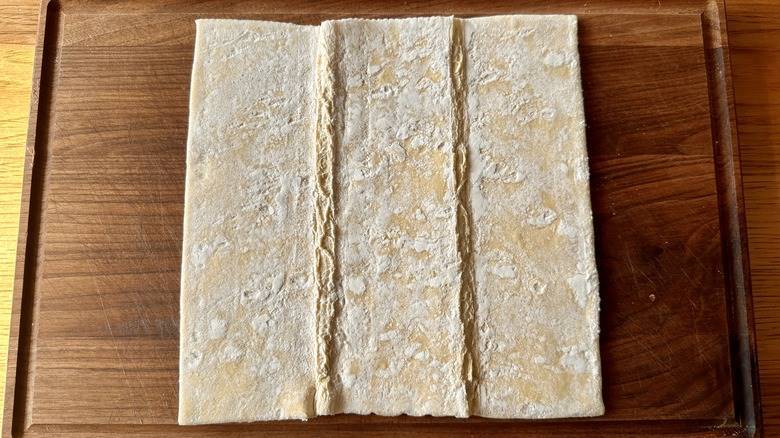 Transfer one puff pastry sheet to a cutting board.
Step 10: Cut the pastry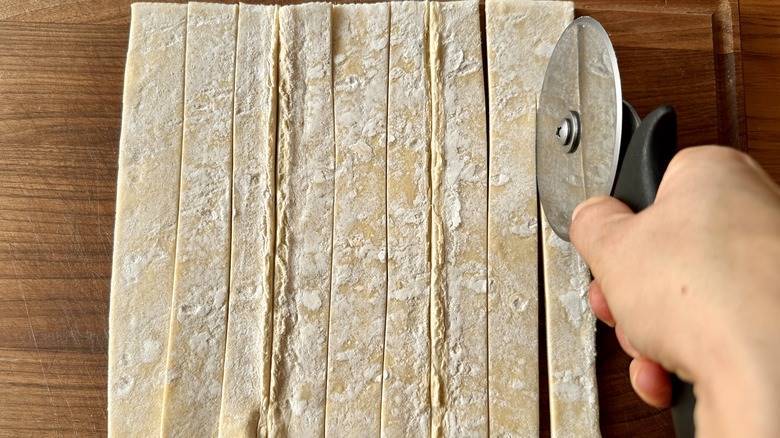 Slice it into 9 even strips.
Step 11: Slice the puff pastry again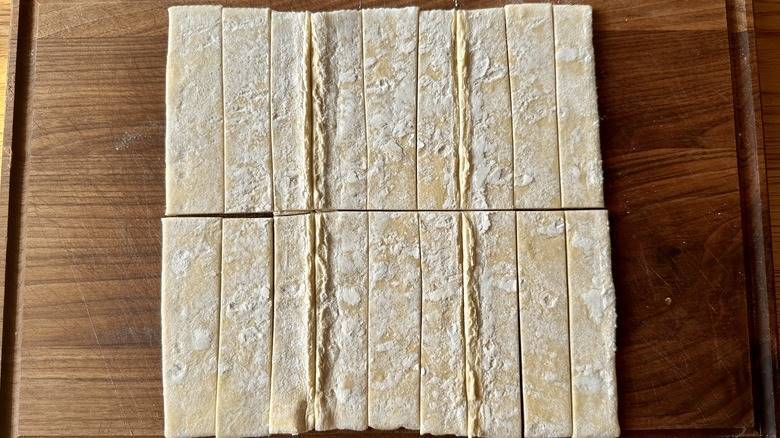 Slice it horizontally into two sections. Repeat with the remaining sheet.
Step 12: Combine the sprout and pastry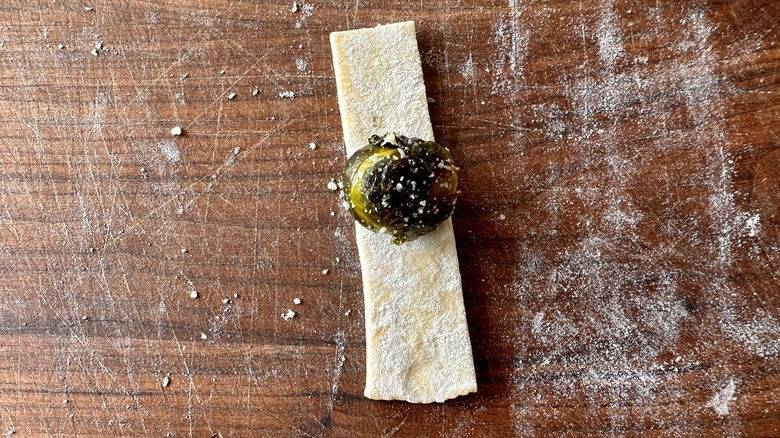 Place one Brussels sprout in the center of a puff pastry strip.
Step 13: Roll your first sprout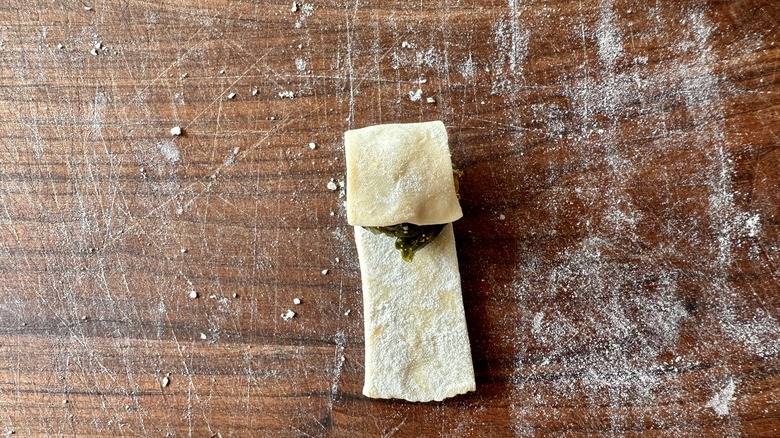 Roll up the pastry strip.
Step 14: Seal and finish your first pastry-wrapped sprout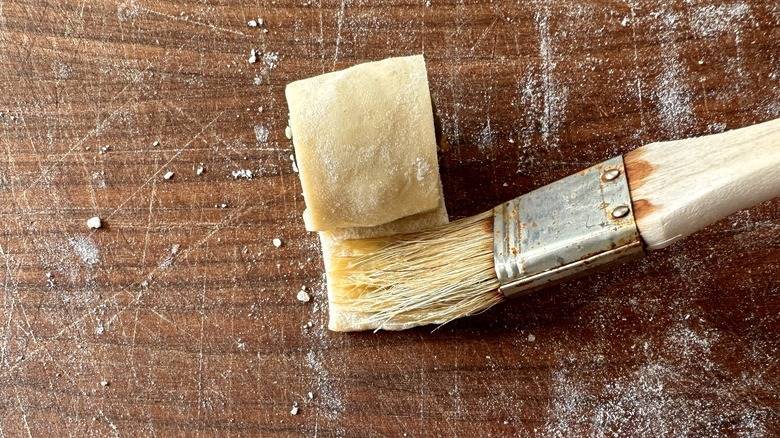 Seal by brushing with egg wash and pressing to seal. Repeat with the remaining Brussels sprouts.
Step 15: Put your wrapped sprouts on a sheet pan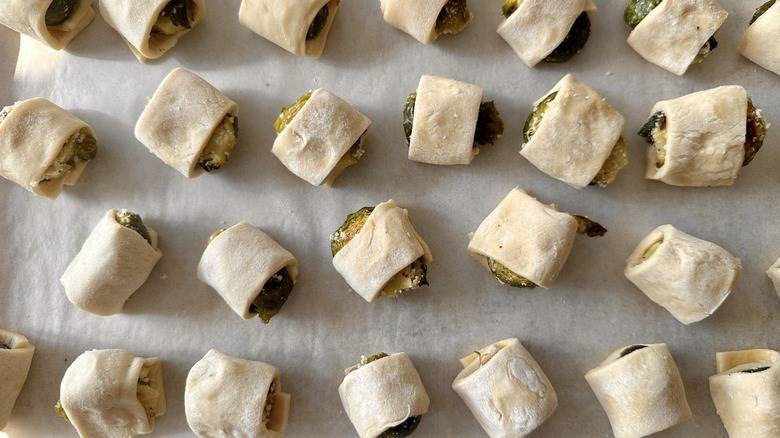 Transfer the sprouts to a baking sheet, spacing them at least ½ inch apart.
Step 16: Add the final egg wash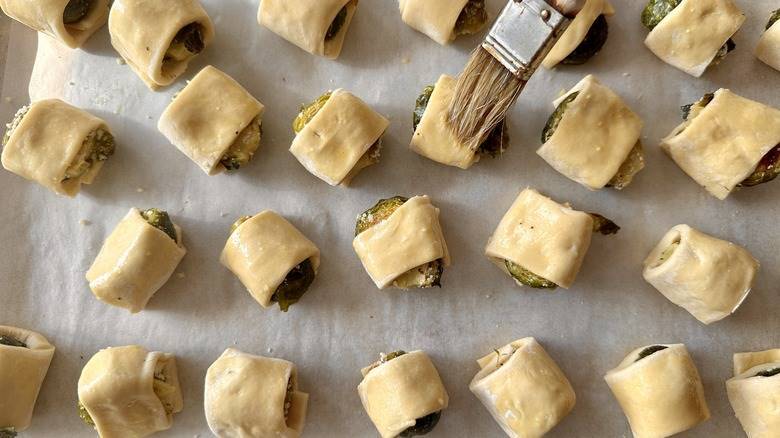 Brush the tops with egg wash.
Step 17: Add some seasoning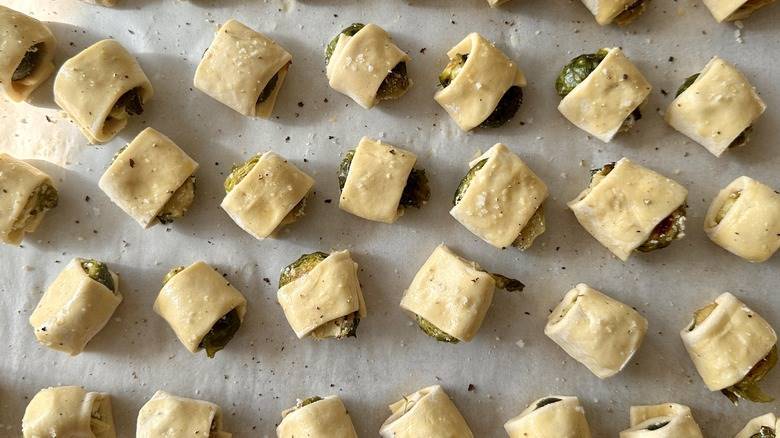 Sprinkle the tops with salt and pepper.
Step 18: Bake your pastry-wrapped sprouts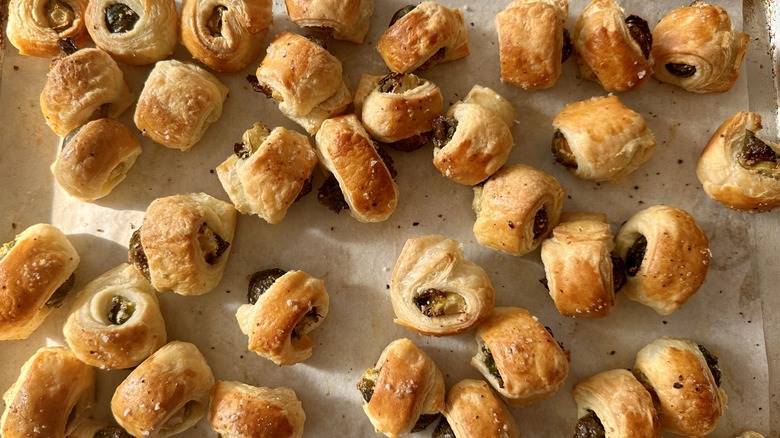 Bake for 16 to 18 minutes until golden brown.
Step 19: Begin making your sauce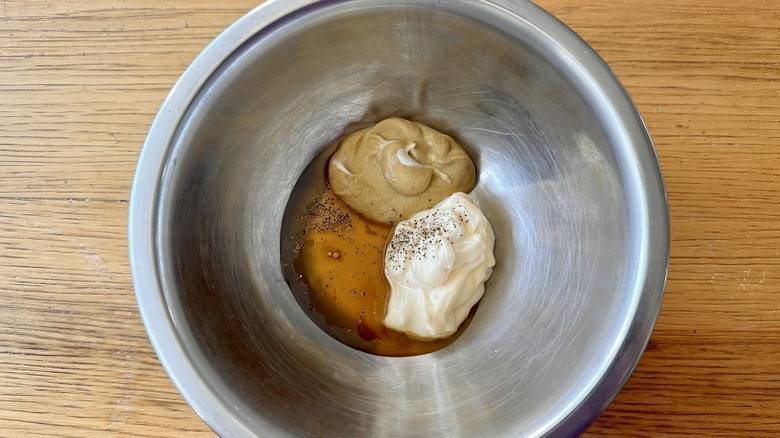 In the meantime, add mayonnaise, mustard, maple syrup, vinegar, salt and pepper to a small bowl.
Step 20: Mix your sauce together
Stir or whisk to combine.
Step 21: Add some more cheese to your sprouts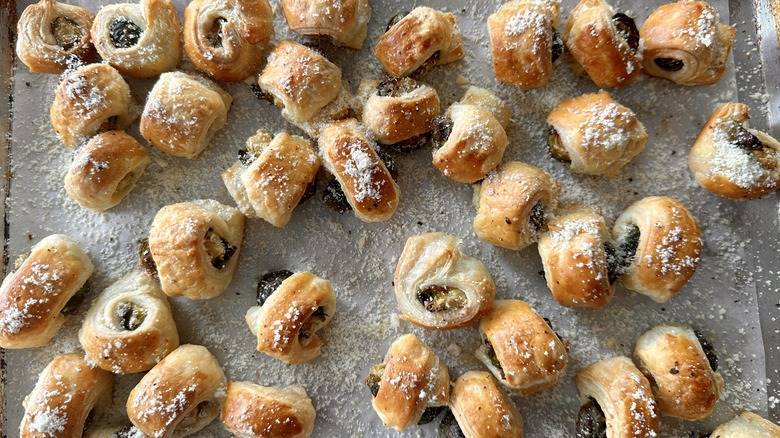 Sprinkle the baked Brussels sprouts with the remaining ¼ cup Parmesan cheese while hot.
Step 22: Serve and enjoy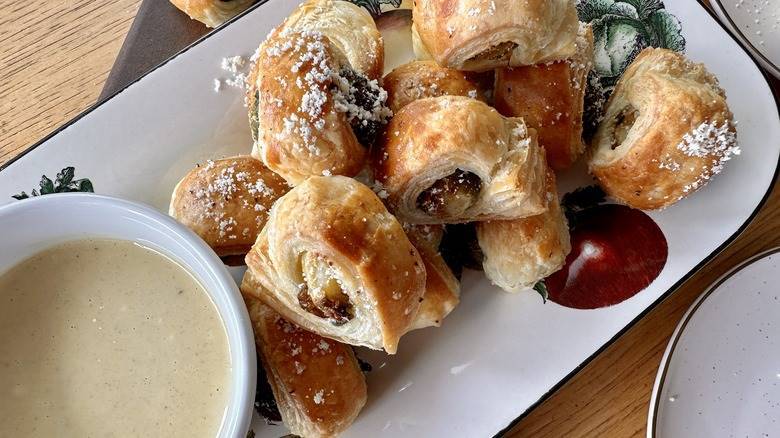 Serve hot with mustard dipping sauce.
Can you make these Parmesan pastry-wrapped Brussels sprouts in advance?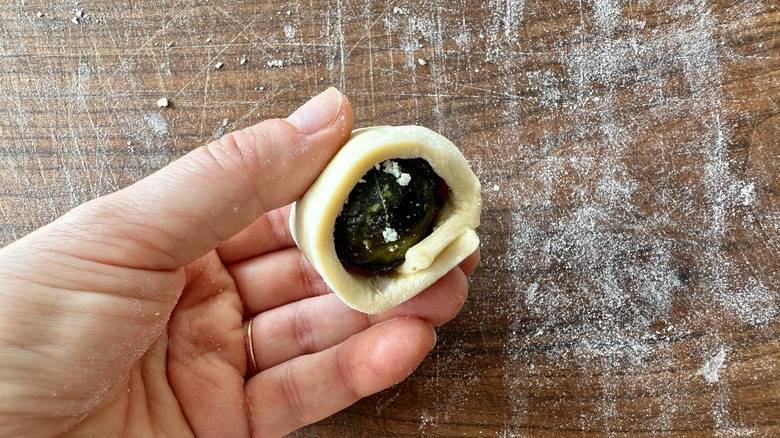 Busy life? You'll be glad to know there are some components of this recipe you can make in advance. This makes the recipe very convenient if you're trying to coordinate various elements of a holiday party. "These pastry-wrapped Brussels sprouts can be assembled up to one day in advance," Rosenhouse explains. "Just wrap the roasted Brussels sprouts in puff pastry as directed, then wrap and refrigerate until ready to bake. Apply the egg wash and finishes fresh before baking. The maple-mustard dipping sauce can be prepared up to three days in advance and refrigerated in an airtight container until ready to serve."
If you happen to have any pastry-wrapped Brussels sprouts leftover, they can easily be reheated. "Store leftover Brussels sprouts in an airtight container in the refrigerator for up to three days. Reheat in a preheated 350 F oven or until crisp and hot throughout," Rosenhouse says.
How should you serve these pastry-wrapped Brussels sprouts?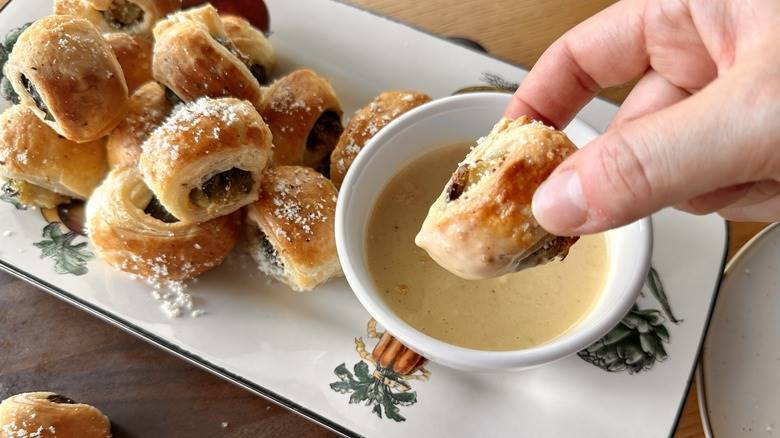 Although these pastry-wrapped sprouts might make a nice lunch or a quick snack, this recipe is designed to be more of an appetizer or side dish than a main course. "These pastry-wrapped Brussels sprouts are a delicious hot appetizer for Thanksgiving or any other gathering," Rosenhouse says. They make a great addition to an appetizer spread for a holiday party. "They pair well with other vegetarian options, like crudité, or can help balance meatier options for a well-rounded mix of savory bites." 
If you want these to be a side for a heartier meal, the flavor profile of Brussels sprouts tends to play well with ingredients such as lemon, garlic, and sage, as well as proteins like turkey, smoky sausage, and ham. As sprouts are a traditional holiday side, they go well with all of the other festive favorites. Bake or roast some lemony potatoes (add some more Parmesan cheese while you're at it), to complete your flavorful holiday feast. A tangy would add a touch of brightness to the umami earthiness of the pastry-wrapped sprouts. The possibilities are endless — and endlessly tasty.