Sweet potato ice cream might seem unusual, but just like pumpkin puree, mashed sweet potato has a sweet, velvety texture, which pairs perfectly with cream and sugar for a savory-sweet dessert. When it comes to seasonal fall desserts, we love the : pumpkin, pecan, or sweet potato pie. This no-churn ice cream plays with the flavors of classic sweet potato pie in a new way, with hints of cinnamon sugar-coated and whipped cream, while calling in the : sweet potato casserole. Toasted pecans are candied with maple syrup for a rich flavor and crisp texture, and mini marshmallows are lightly broiled for a toasty touch. 
This ice cream is a great way to use up leftovers. After preparing your Thanksgiving meal, scraps of pie dough can be refrigerated or frozen and saved to use in this recipe. Those few extra marshmallows in the cabinet can find their way into the mix, and while you're at it, grab that bottle of pumpkin pie spice you'll never use up before the season is over. The leftover pecans from that charcuterie board can find new life with a splash of maple syrup and a hint of sea salt. 
Recipe developer loves shaking up her holiday desserts. "It's fun to surprise your family once in a while. Classic flavors, mixed up into something untraditional, can be a great way to change up your holiday routine. It's a great conversation starter."
Gather the ingredients for no-churn sweet potato ice cream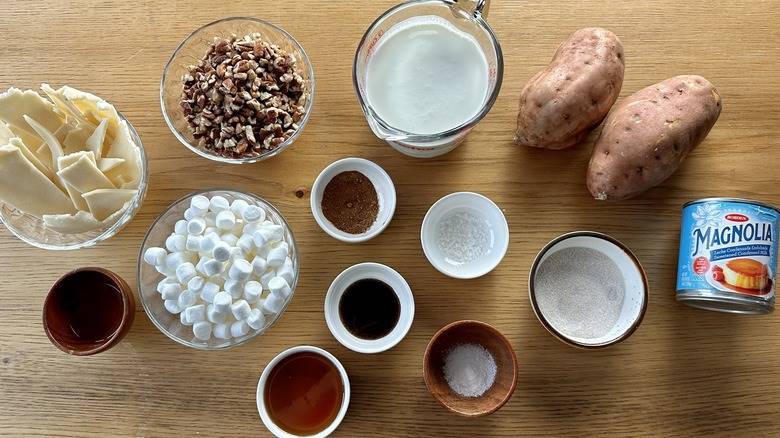 To make this no-churn sweet potato pie ice cream, you'll need medium sweet potatoes, which get baked until fork-tender and mashed until smooth, along with condensed milk, pumpkin pie spice, kosher salt, vanilla bean paste (or vanilla extract), and bourbon or rum. The alcohol adds flavor, while also keeping the ice cream soft enough to scoop right out of the freezer. If desired, you can add a drop or two of orange food coloring to enhance the orange hue of the dessert.
Leftover pie crust scraps are coated with cinnamon sugar and baked until golden brown. Pecans are candied with maple syrup and sprinkled with flaky sea salt. Mini marshmallows are lightly broiled for a toasty flavor. If you have a blowtorch, use that for lightly-torched marshmallows that will hold their shape without needing to freeze them. 
The sweet potato mixture is lightened with whipped heavy cream, and the pie crust, pecans, and mini marshmallows are folded in. Freeze until firm, then serve with more mini marshmallows and whipped cream, if desired.
Step 1: Preheat the oven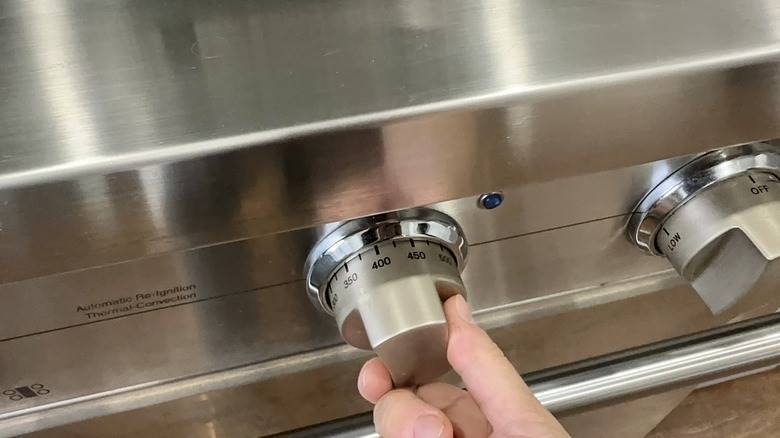 Preheat oven to 425 F.
Step 2: Line baking sheets with foil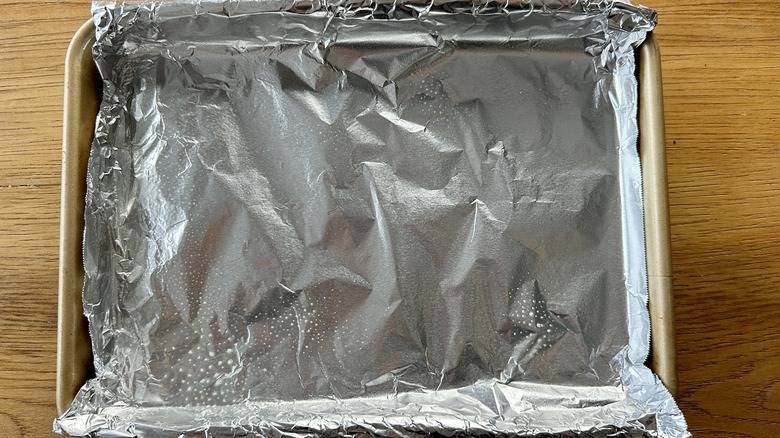 Line two small baking sheets with aluminum foil.
Step 3: Bake the sweet potatoes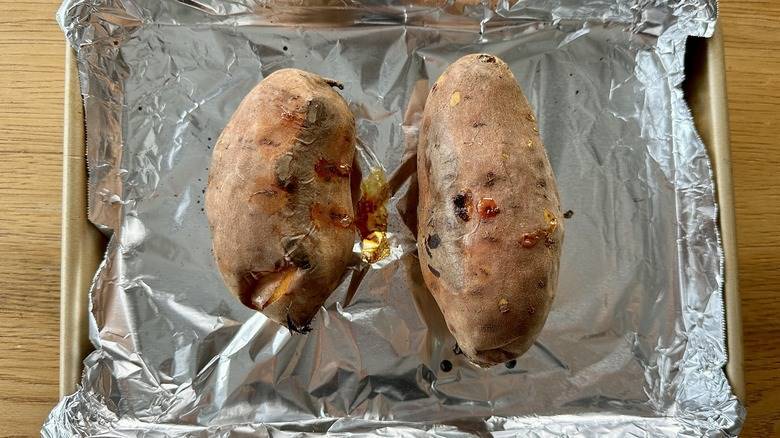 On one sheet, bake potatoes on upper oven rack for 1 hour or until they can be easily pierced with a small knife.
Step 4: Line baking sheets with parchment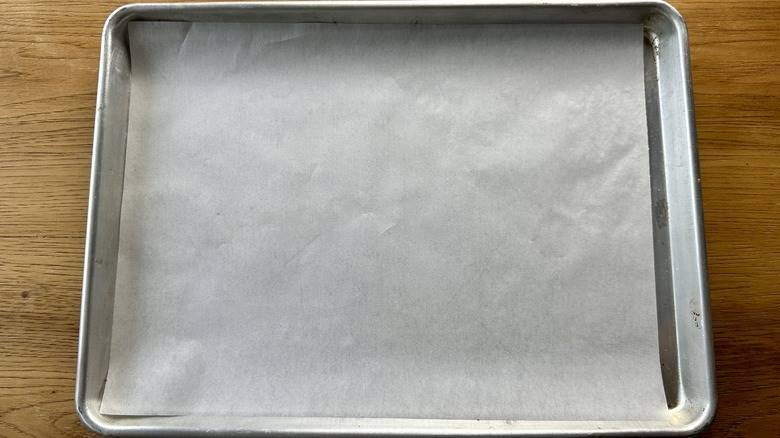 In the meantime, line two standard baking sheets with parchment paper.
Step 5: Prepare pie dough scraps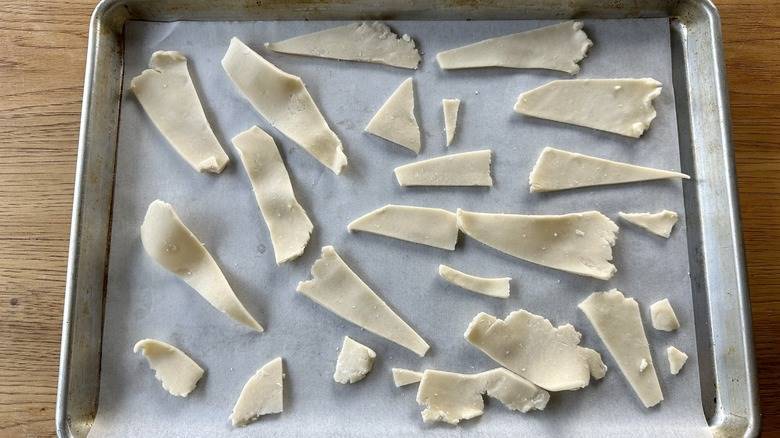 Place pie dough scraps onto one baking sheet, spacing at least ½-inch apart.
Step 6: Sprinkle with cinnamon sugar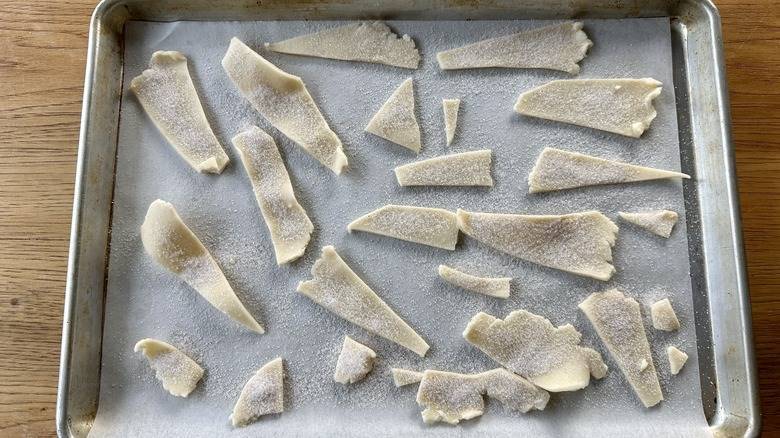 Sprinkle with cinnamon sugar.
Step 7: Bake until golden brown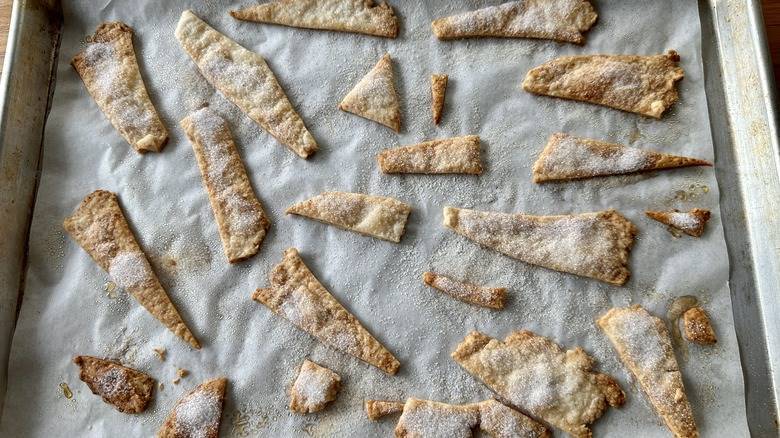 Bake for 10 to 12 minutes on bottom oven rack until browned. Set aside to cool.
Step 8: Prepare the maple pecans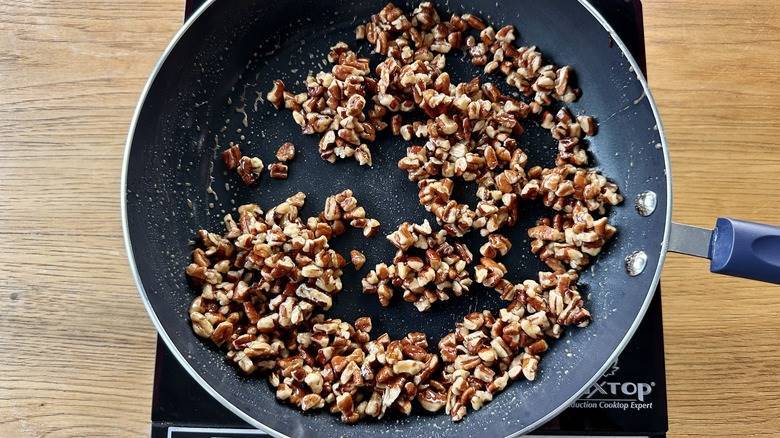 Heat pecans and maple syrup in a medium pan, stirring often, until the syrup begins to crystallize, 4 to 6 minutes.
Step 9: Add sea salt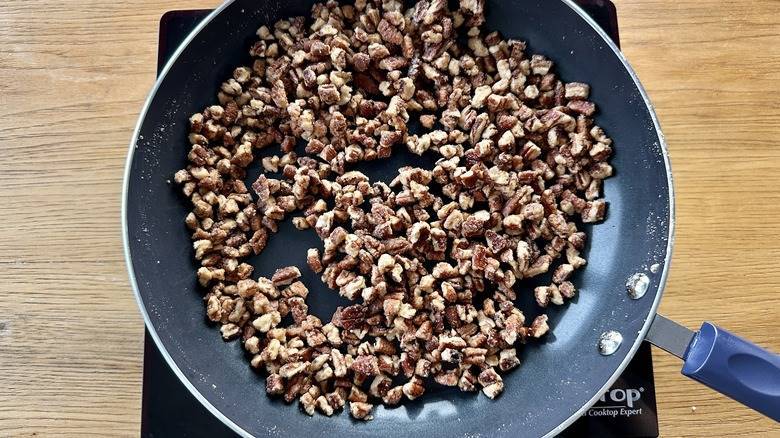 Add flaky sea salt and stir to combine.
Step 10: Transfer the pecans to a baking sheet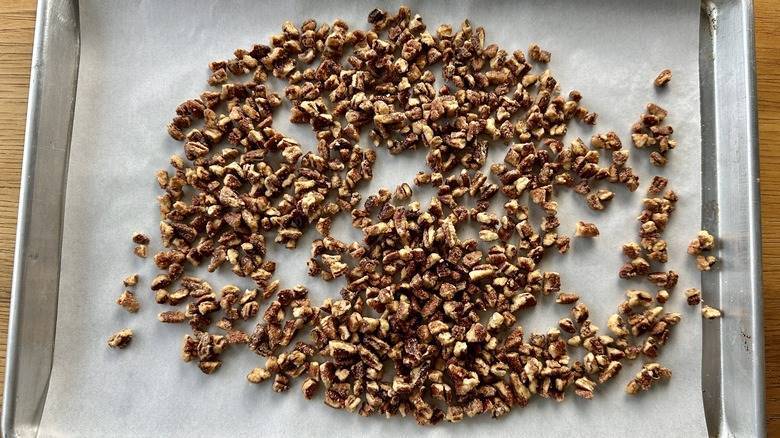 Transfer pecans to the remaining parchment-lined baking sheet. Set aside to cool.
Step 11: Peel the potatoes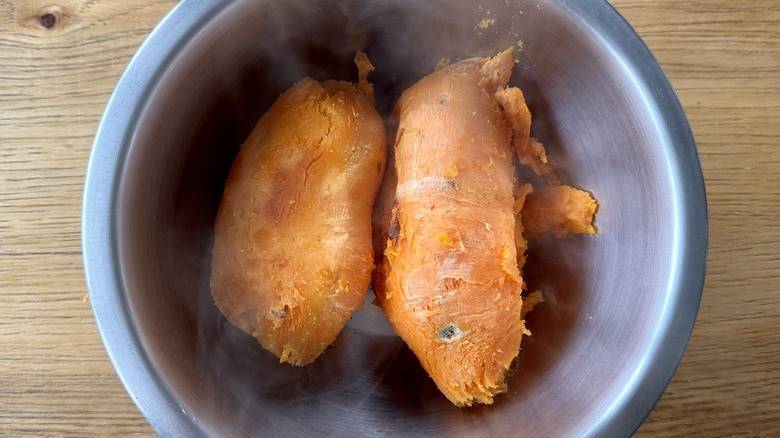 When potatoes are ready, set aside until cool enough to handle, then peel.
Step 12: Set the oven to broil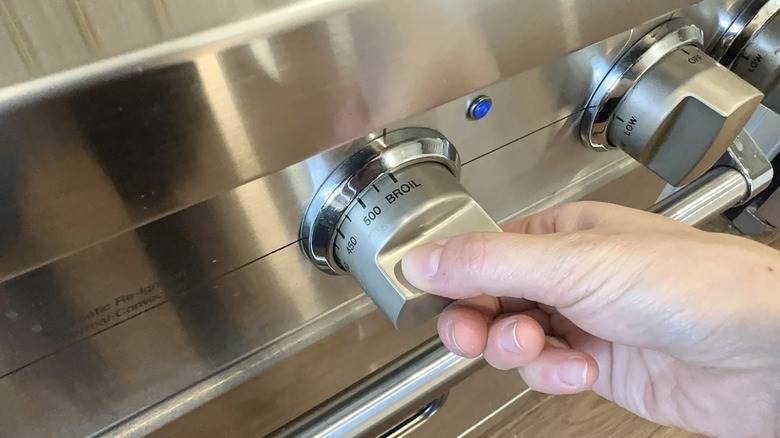 Set oven to broil.
Step 13: Place the marshmallows on a baking sheet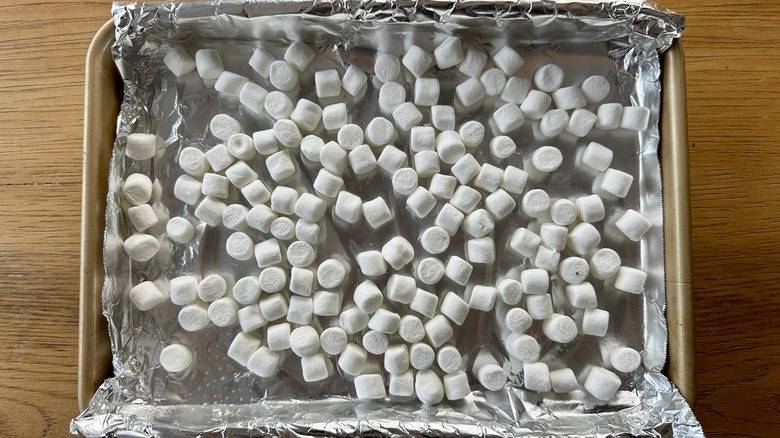 Spread mini marshmallows onto remaining foil-lined baking sheet.
Step 14: Broil the marshmallows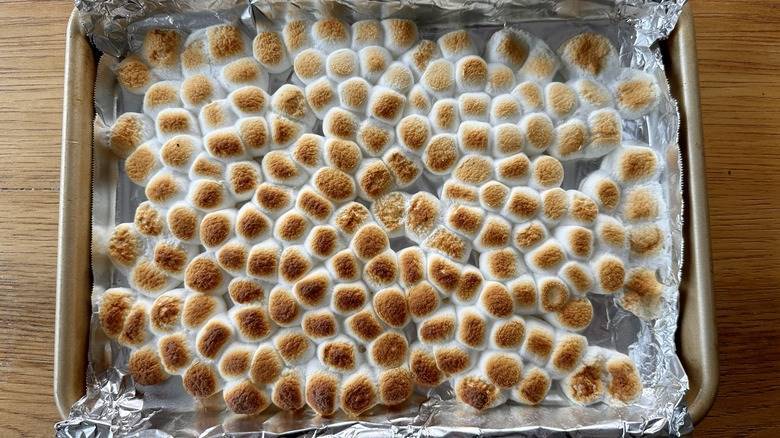 Broil 1 to 2 minutes until toasted; set aside to cool slightly, then freeze.
Step 16: Mash the potatoes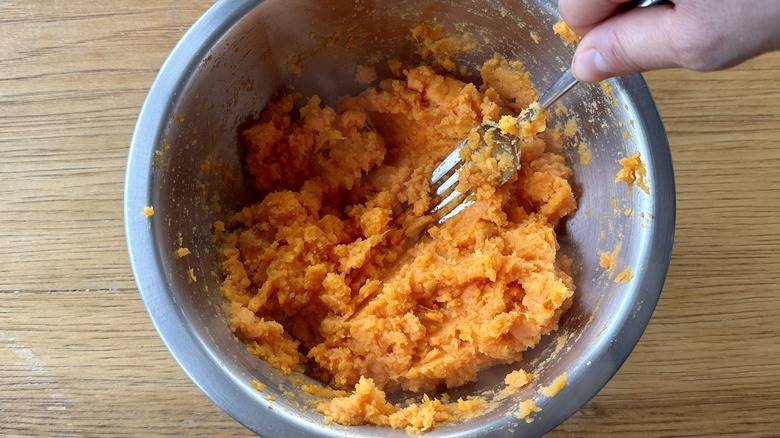 Mash potatoes in a medium bowl with a fork or potato masher until mostly smooth (or completely smooth, if preferred).
Step 17: Add the flavorings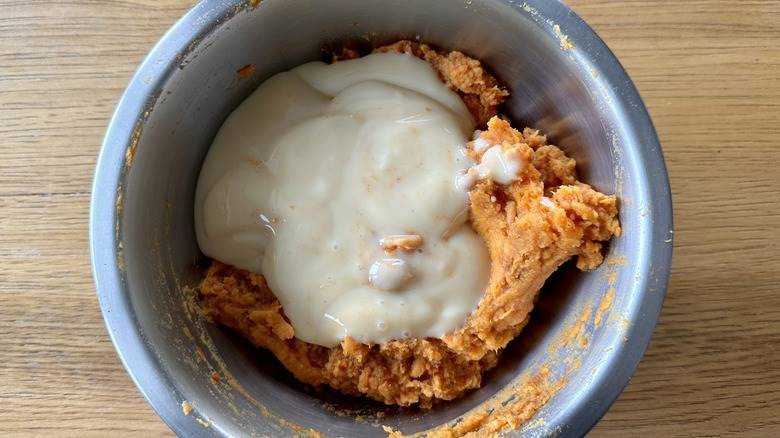 Add condensed milk, 1 ½ teaspoons pumpkin pie spice, salt, vanilla, and bourbon; stir to combine.
Step 18: Add the food coloring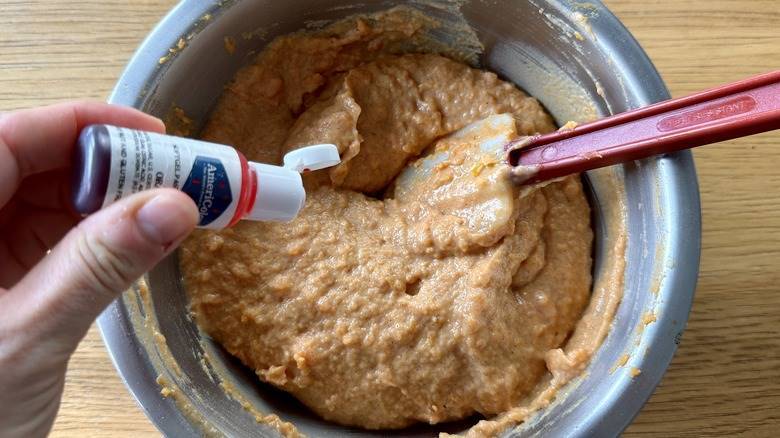 Add a few drops of orange food coloring to sweet potato mixture, if using.
Step 19: Whip the heavy cream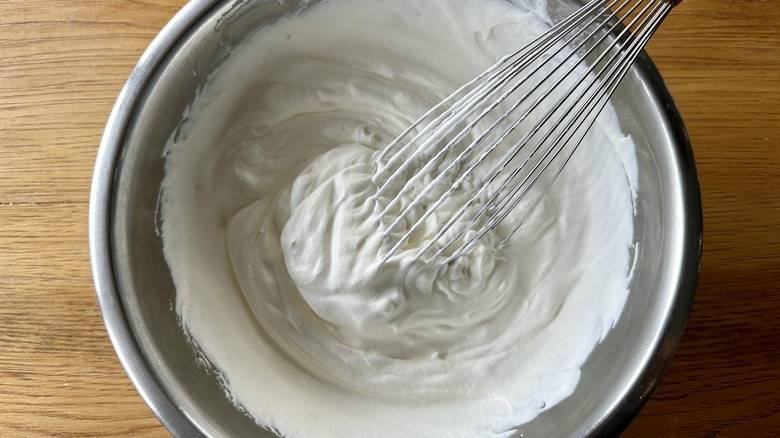 Whip heavy cream in a large bowl to medium peaks.
Step 20: Fold the cream into the potato mixture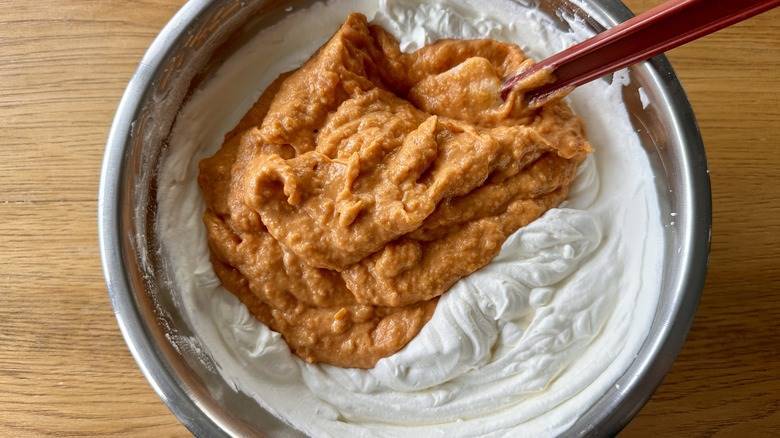 Fold potato mixture into whipped cream until combined.
Step 21: Tear the marshmallows into pieces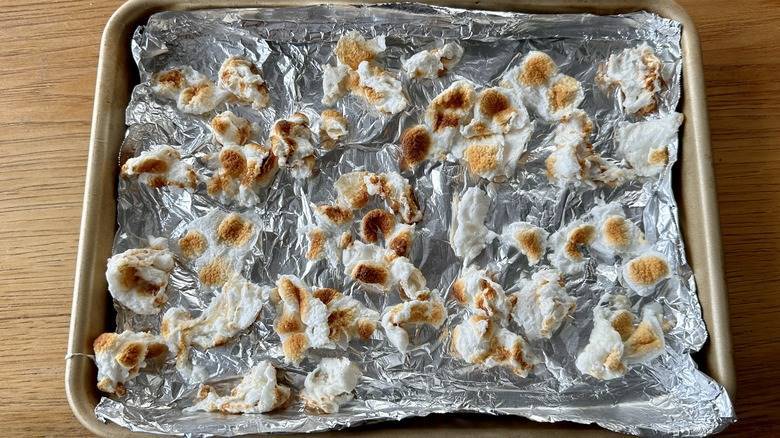 Remove marshmallows from freezer and tear into small pieces.
Step 22: Fold in the mix-ins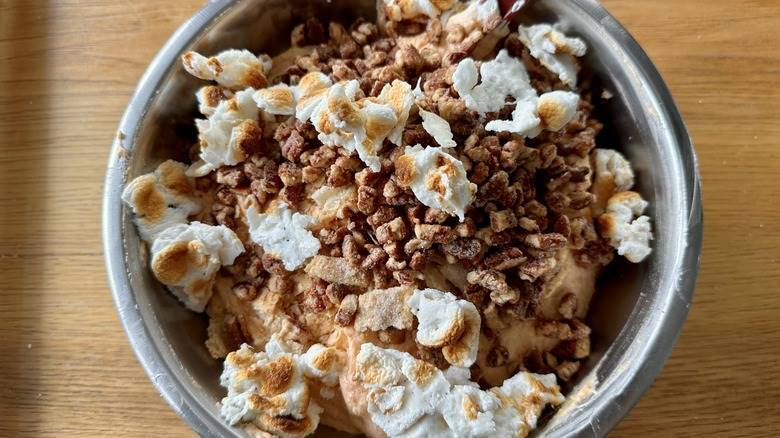 Fold half the maple pecans, half the pie crust, and most of the marshmallows into the sweet potato mixture.
Step 23: Spoon into a loaf pan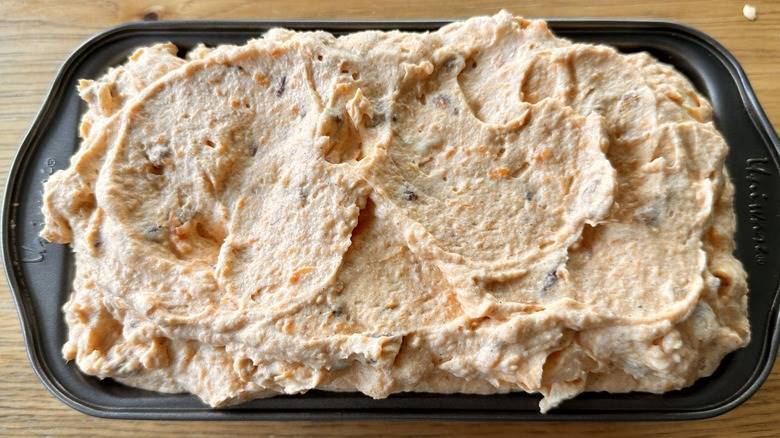 Spoon into a standard loaf pan.
Step 24: Garnish with pecans and pie crust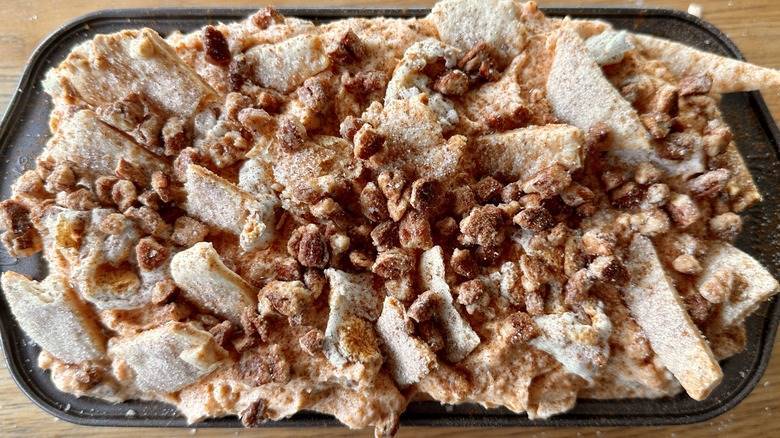 Top with remaining pecans, pie crust, marshmallows, and pumpkin pie spice.
Step 25: Freeze until firm and serve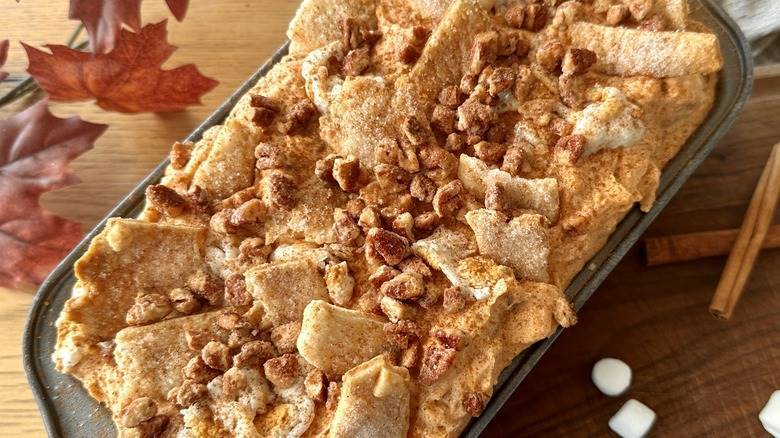 Freeze at least 6 hours or overnight until firm before serving. Optional: Serve with whipped cream and mini marshmallows.
Are there shortcuts for making sweet potato pie ice cream?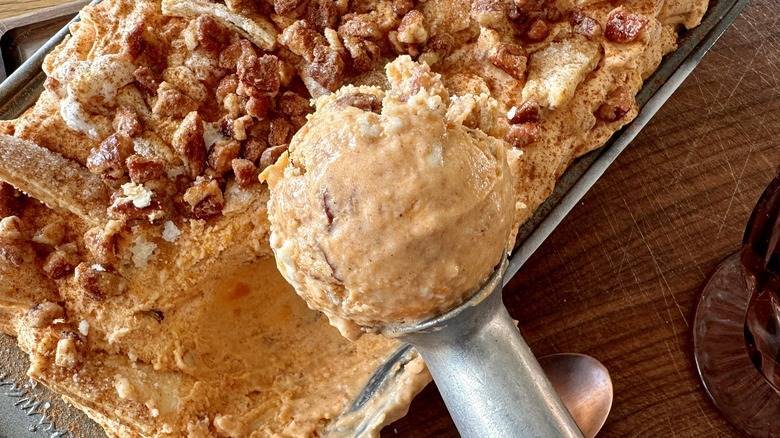 Though this recipe is already fairly easy to put together, there are some shortcuts that will reduce the overall time and steps needed to make this unique dessert. 
For a quick way to cook the sweet potatoes, prick with a fork and microwave for about 5 minutes, turning once, until tender. Skip the pie dough scraps and toss crumbled graham crackers or gingersnaps into the ice cream for a shortcut option. While toasted pecans might lack the maple syrup flavoring of the candied version, they still add a great crunch to the ice cream. For a nut-free version you can leave out the nuts altogether. Use a blowtorch (if you have one) to quickly torch mini marshmallows for a toasty touch, or skip this step entirely, and throw in the mini marshmallows as-is.
These shortcuts should cut down the prep time significantly. And of course, when serving, grab store-bought whipped cream for an extra creamy finish without any additional work.
How long can I store sweet potato pie ice cream?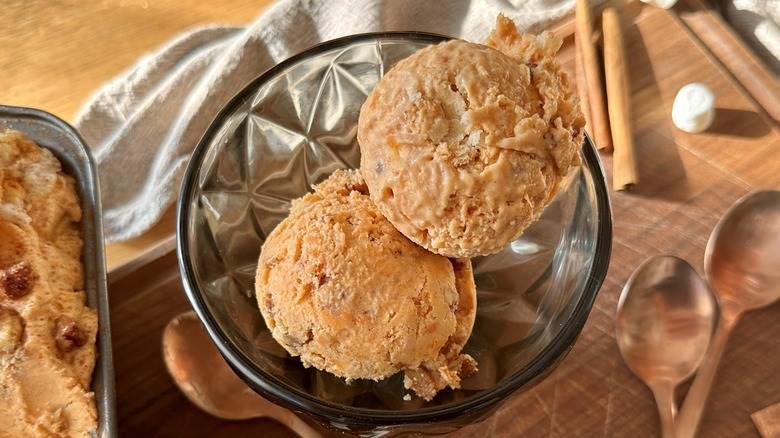 There's nothing better than having homemade ice cream on hand whenever the mood strikes — especially during the holiday season. Make this sweet potato ice cream and store well-wrapped in the freezer for up to one month. To help keep it from crystallizing over time, firmly press a piece of parchment paper or plastic wrap onto the surface of the ice cream. This should help seal out excess air that could cause freezer burn. 
The bourbon in the mix should help keep this ice cream scoopable when frozen, but when serving a crowd, transfer the ice cream to the refrigerator for 20 to 30 minutes before serving for easy portioning. Just be sure not to do this too often. The more ice cream is thawed and frozen, the more likely it will start to turn icy. 
"When serving ice cream to a crowd, I always thaw it in the refrigerator first," Rosenhouse says, "or scoop the ice cream into frozen bowls ahead of time to eliminate the need to scoop in front of everyone. Let's face it, no one wants to wait when it comes to ice cream!"
Can no-churn ice cream be made in an ice cream machine?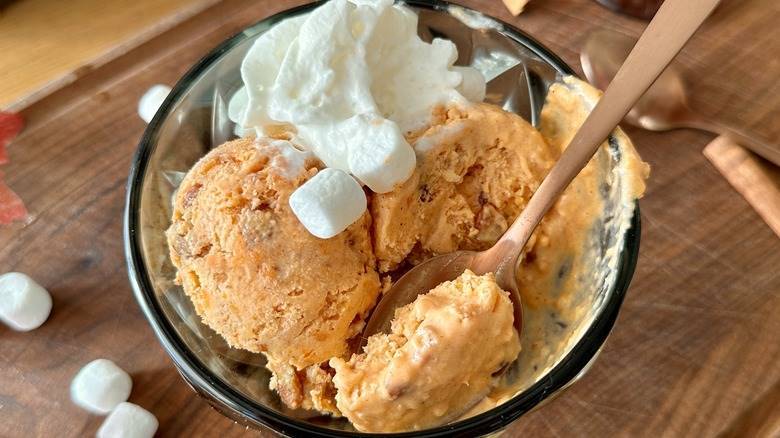 Ice cream makers are designed to make custard-based ice creams. These ice creams generally rely on a cooked mixture of dairy, sugar, and egg yolks, as well as additional flavorings, for a rich and creamy frozen result. No-churn ice creams have a very different composition. Typically made by folding whipped cream into condensed milk with extracts or other flavorings, and then freezing until firm, no-churn ice cream relies on a good amount of sugar and fat to keep it creamy and scoopable when frozen. These ice creams are often denser than churned varieties.
Since no-churn ice cream is made primarily with whipped cream, churning (whipping while chilling) just isn't necessary. For this reason, it's not recommended to prepare this recipe using an ice cream machine — it's formulated specifically to be made without one. It will be every bit as rich and creamy as the churned version.